There are too many instances I could write about here that to single out one might give you the impression this is a rarity. The opposite is true. However, it was from this one I drew some valuable lessons and decided never again to allow for anyone's fears to dictate how much product I used or where I was going to treat. My license and health are worth far too much even if someone's irrational fears are too much for them to bear and they succumb to the old adage that more is better. As a pest control technician it's far better to learn this lesson from the pages of book or web site than the way in which I did. Hopefully with my example you'll be able to avoid this situation should it come your way and stand your ground-When Phobias Collide.
As a wayward spider dangled lifelessly from the ceiling at the end of it's web I could hear my homeowner shrieking from the living room gasping out words that by now I could just barely comprehend having heard this same shrill alarm for the past hour and a half. "there's another one" she exclaimed in her desperate voice-"come quick, spray him, KILL HIM!"– As her voice cracked her incessant commands, I wondered just how I let this situation get so out of hand.

The Dousing
This whole thing started from a simple call for spider control on a vacation lake home that was barely used. My would be client seemed rational enough but still she did let me know she was very afraid of spiders and wanted them gone. She was also leery of using pesticides because she was having a party that weekend and was concerned about the family and guests health. My normally keen 'spidey sense'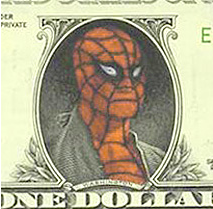 wasn't kicking in with what I now know to be false motivation and even if it did I was in no position to turn down a paying client at this time in my career. As it turned out our schedules didn't mesh so it wasn't until Friday, the day before the big shin dig that we could meet and this added an undue pressure to an already simmering situation.
Not having been there for God knows how long my client was in a good mood as she pulled in the drive and surveyed the freshly mowed landscape. I'm sure she had visions of a posh party as her envious friends frolicked on the dock of her beautiful lakeside estate. She didn't seem apprehensive to me and I'm convinced she thought a quick little sprits was going to suffice and she could go about the business of putting up streamers and balloons. This all changed when we could barely get to the front door because of the spiders and I could almost hear her blood pressure climbing ever higher.
The scene only got worse as the creaky door revealed what years of neglect had done and the infestation of spiders, all sorts of bugs and even a dead bird was one that would rival any horror flick you've ever seen. It was dark and damp with the smell of mildew permeating this house of horrors. My clients knees wobbled as she gasped, shrilled something inaudible and even welled up with tears as I'm sure her visions of a grand lake front to-do went down in flames as her astonished eyes took in the spectacle.
It only took a few minutes of her brain processing this horrible situation and what I thought was a semi cautious woman had suddenly turned into the terminator from HELL! Oh don't get me wrong, she was still freaked out and could barely move but she managed to find a half way web free spot and began her 'shock and awe' campaign using me as her patriot missile.
I knew better than this alright but I couldn't even begin to withstand her screams and shrills every time a funnel or wolf spider came out of it's protective cavity either running for cover or dying from the direct shot. "EEEK there it is" KILL IT!" came the high pitched command and no amount of my even toned reassurance would calm her escalating fears. Each arachnid that scurried or dangled from my attack just couldn't get 'dead enough' and her persistence of more and more spray was very hard to dissuade.
After what seemed like forever and a day of being led by the nose from this now irrational woman I was finally able to convince her to head outside and allow me to clean up her infestation using a broom instead of the 'fogger machine' that me & my big mouth told her I had. "You'll be locked out for hours and that'll put an end to any hopes of a party" I said in a baiting tone and this bit of information seemed to break through the otherwise hell bent demand for more and more chemical. My broom was effective alright but it filled up with webbing with only a swipe or two, I used a tree trunk outside to scrape the sticky strands off as best I could and the lady just watched in horror which by now I realized was due to the thought of the fear of a flopped party, damaged ego and not arachnid phobia.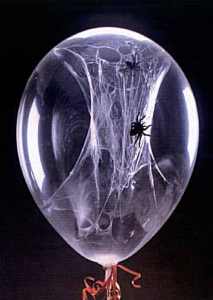 I spent all total 3 hours on this call and not a moment of it was in any ordered technique. I did manage to use several different products but when the same crack, crevice or knot hole in the dark dank wood was treated for the 3rd time and this still wasn't enough I found myself wishing I never answered the phone when she originally called. I never found out if the party ever went off but if it did I'm sure of at least one woman who didn't enjoy it at all. She was probably nervous and stiff as she passed out hor'derves and constantly glanced in the toxic filled cavities or decorations just sure that one hairy huge monster was waiting to pounce and ruin her facade she obviously cared so much about. I'd bet she even went to the store and bought a case of Raid or room foggers and had her poor husband finish off what I didn't kill even deader for her. While I'm not a psychologist by any means I'm sure there was more than one force at work on this woman. Sure she was afraid of the 8 legged freaks that took over her home away from home but I believe she was even more aghast of the thought of her friends and peers seeing any deficiency in her otherwise ordered world and perhaps her social standing would take a hit. In any event it wasn't the spiders so much as it was me the technician who was more the victim on this errant path, a path where Phobias Collide.