It's Wednesday again and I'm off to my weekly visit to a once massive meat processing facility that through the years has dwindled down its services to just manufacturing hot dogs. It's 5:15 am and bitterly cold outside as I reach into my tool box and pull out the only chemical I'm allowed to use inside the facility. I grab 2 cans of Aero term which I think was pure pyrethrins and man was that stuff powerful. It's not much warmer when I get inside and the whipping noise of the wind is quickly replaced with fork lifts, the scraping of shovels and men shouting at each other. No one was mad at anyone, it's just the way they talked one to another over the loud steady noises.

I whisk past the U.S.D.A. office which I was told I never want to be called into because if that ever happens I would have done something very terribly wrong. Checking in and finding my pest sighting log I scan for any new entries. Besides some doodling from a bored supervisor there is nothing written at all. It's been that way for awhile but I always know when the U.S.D.A. man has emerged from his office because suddenly there are dates and notes all scribbled down in a very hap hazard way. So off I go wandering through a hot dog factory but I find myself looking around more than any actual treating. For this account my main job is inspections and not of the entire plant. I did all the break rooms, locker areas, docks, offices and then once per month,–the subterranean levels.
When I first started the account I was lost, my job up to that point was to spray first and ask questions later so it took me awhile to get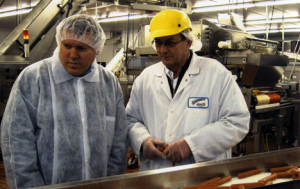 used to just looking. I'd use the Aero term to flush out any suspect areas but that stuff not only flushed them, it fried em. Once in a blue moon I'd get some roaches behind the time clock but that was about it. The men working the plant were all very nice I guess, "Going down to the basements?" they'd yell trying to compete with all the noise bouncing of all the cement walls. They reminded me of Pauley from the movie Rocky and I know they were just trying to unnerve me. I'd just smile and scream back–"Inspector's got you doing it this month" and I'd be on my way. They gave me a present at Christmas time and they were all grinning from ear to ear when they told me they all pitched in. It was a stainless steel mesh glove from the days when the plant was a full blown slaughter house and the cutters used the glove to keep all their fingers in tact from the sharp knives. They told me I should wear it for my monthly descent, "might come in handy" and again they all had $h&t eating grins on.
Seeing how hot dogs were made was both fascinating and gross. The meat was like some puree or pudding that they hauled around in what looked like stainless steel dumpsters. They actually shoveled it with stainless steel snow shovels off the cement as it poured out of some industrial blender type machine and the slurry mix was a pukey pink color as it plopped out onto the cold floor. The goo went into
another machine that shot it into a long clear tube where it was cut into 6 inch lengths, tied off and hung on conveyor type racks. For lack of a better description it looked like the John Wayne Bobbit tribute memorial & I couldn't believe people actually ate these things. It took me over a year before I could even think about eating a hot dog after seeing that but once I got used to it I was picking them from the strings as they came through the massive ovens on the conveyors. Funny what the mind goes through.
Like I said it was an easy job and I came to learn I was there more for fulfilling a time requirement more than anything. Sure I kept things in check but nothing really got out of hand roach wise. There was however a huge challenge to this job and I still get chills thinking about it. You see once per month I not only brought in my Aero term but I also brought in a huge bucket of rat bait. I wasn't allowed to put anything on the levels that were so easy-no, no, no. This rat bait was meant for an area of the plant that besides me and any other previous pest control technician, hadn't been seen with human eyes for 30 years or more.
To be continued;