Actually, the 14 inch color television set was a prize won by Mokhairul Islam a 40 year old farmer from Bangladesh. The contest? Who could kill the most rats and Islam out distanced the 2nd place contestant by a wide margin. Over a period of 9 months Islam killed 83,450 rats while the runner up Fakhrul Haque Akanda only bagged 37,450. While Islam used mainly poison baits Akanda employed traps and many of those he invented. To prove the number of rats each man killed they both saved the tails of the rats they killed and when the tallies were in the grand prize went to Islam.
"I am so happy to get this honor," Islam told The Associated Press after receiving a 14-inch television and a certificate amid cheers at an official ceremony packed with 500 farmers and officials. "I had no idea that the government gives prizes for this."
"This is an exciting moment. I will continue to kill them," he vowed.

Bangladesh is already an impoverished country and needs to import nearly 3 million tons of food annually to feed its people. 1.5 to 2 million tons of that food has to be destroyed because of rat contamination. It seems other nations are having severe rodent outbreaks as well. Libya recently contracted with the worlds 3rd largest pest control company Rentokil to take on their out of control rat problems and here in America we have our own mini tsunami of rodent population as well. When you consider damage in the U.S to crops, processed foods, other goods, structures and the costs of rat control the numbers climb into the billions and that does not take into account medically related problems associated with the rat.
In Bangladesh the contest of "who can kill the most rats" is only the latest of a long hard fought battle. The government has implemented a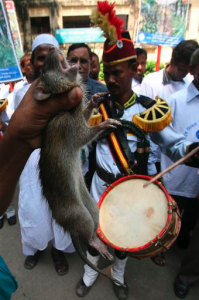 rat control campaign since 1983 to try and limit the crop loss but success has been limited. Motivational posters, TV commercials and educational seminars as well as re-timing the planting of crops during what studies showed as slow cycles of the Bandicoot rat which is the major problem for them. All with little response and so that rat population has flourished.
Perhaps something so simple as a 14 inch color television which seems trivial to you and I will do the trick. Over 500 farmers gathered at the ceremony for Islam and seemed determined to be the next winner. Even as we read this I'm sure traps and poison are being set out all with one goal in mind. If the other farmers are going to have a chance they'll need to kill at least what Islam did so 500 farmers x 83,000 rats = 41,500,000 dead rats and somehow I don't believe that will even put a dent in things. Perhaps they would be better off to hire an expert like Libya did but if that doesn't work out they can always give my little company a call; but I am not saving the tails…..my wife would kill me.