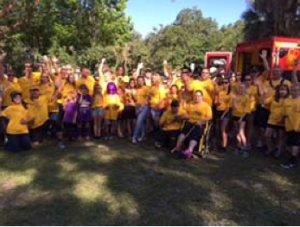 TAMPA, Fla. — Close to 140 Truly Nolen employees came out to walk, run or support the Lupus Foundation of America's Walk to End Lupus Now on Sunday, May 3 at the Lowery Park Zoo in Tampa. Edward Henry, a district sales trainer with Truly Nolen, first became involved with the Lupus Foundation last year, after learning that his wife was diagnosed with the disease.
Henry was delighted by all of the support shown by his Truly Nolen family. "When word of the event got around the district I was amazed by how many of my co-workers wanted to support me and my family by attending the event," Henry said.
Not only did his co-workers attend the walk, but the company also made a $1,000 donation, handed out over 400 sport packs to fellow walkers, and had the company's brand new signature mouse limo and community express truck equipped with grills and flat screen televisions, on site.
We here at pestcemetery.com Salute the great men and women of Truly Nolen and say Thanks, for the high standard you have upheld all these years. We will strive to be worthy of your example.