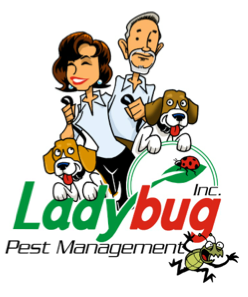 We should have attached pedometers to Daisey & Dolley's harnesses to see just how many miles they have walked (or to be specific walked and sniffed) over the past 4 years in their search for bed bugs.  Ladybug Pest Management's veteran bed bug sniffer is Daisey, a very cute tri-color beagle who began her bed bug sniffing career in the winter of 2011.
Fast forward to today, and Daisey is still working in many of Delmarva's Proactive Hotels inspecting at regular intervals to locate bed bugs before a guest may encounter them.  Daisey was so successful, that Ladybug Pest Management's owners, Sandy & Frank Honess added a second canine to the Bed bug Inspection Team in October of 2011.  Hello Dolley.  Goodbye bed bugs.  Dolley, a tan and white beagle joined the Ladybug team and works together with Daisey.  Sandy & Frank both handle the canines and work Daisey & Dolley as a team, a/k/a our Dynamic Duo, Double D's and sometimes little Double Divas.   But more formally known locally as Delmarva's Own Daisey & Dolley – Canine Scent Detection for Bed Bugs. 
We also as a Pest Management Professional will 9 times out of 10 be able to visually confirm live bed bugs at or near D & D's alerted area.
With the summer season upon us and with hundreds of thousands of tourists coming into the beach areas hotels, motels, condominiums and rentals, bed bugs are an unwanted pest that can easily be brought in with travelers.  Bed bugs are hitchhikers and can come in on the luggage of tourists or even from employees of our hospitality and lodging facilities who may have a problem at their home with bed bugs.  Bed bug Scent Detection canines have the ability to:
Clear a single hotel room in much less time than any other method.
A canine's nose is used as an inspection tool for bombs and drugs by law enforcement.
A dog's nose is 10,000 times more receptive than a human nose.  They even have a dog inspect The President's airplane, Air Force One before each takeoff. 
We have witnessed Daisey & Dolley alert on a dresser drawer/bureau in a hotel and kept pointing at the drawer.  Once we broke down the bureau, one live adult bed bug was hidden and lodged in the drawer sliding metal track on the side of the bureau.  A Housekeeping attendant would not have located that bed bug.  Daisey & Dolley have also alerted at a nightstand beside the bed and a live bed bug was found on the underside of the stand in a screw head. 
The hotels/businesses that take are taking a proactive and not a reactive approach to the bed bug issue see the benefit of hiring Daisey & Dolley to find the bugs before a guest does.  We have also seen in these hotels within the past 4 years that they have used our canine program, a 50% reduction in the level of bed bugs/infestations found.  Daisey & Dolley are finding more adult bed bug introductions, not full life cycle infestations in the hotels that have been using Daisey & Dolley at least 2 times per year.   
D & D have found bed bugs in the following hideouts:  pull out sofa beds, dresser drawer metal tracks, underneath night stands and on the carpet, behind carpet baseboard bumpers, in/under torn wallpaper, behind headboards,  box spring corners and torn encasements and in a vacuum. Also found in luggage.   Bed bugs are not always confined to the mattress and box spring. 
Landlords that rent properties are protecting themselves by having Daisey & Dolley inspect for bed bugs after a tenant moves out, while the apartment is empty to "certify" bed bug alert free status.  We then issue a Certificate of Inspection to them which documents the findings of the canine inspection as well as our visual findings as a Pest Management Professional specializing in bed bugs.  This inspection provides the Landlord and/or Property Management Company's peace of mind certification and protection from potential future litigation.    
Daisey & Dolley really blew us away with a finding on two separate occasions in empty apartments.  Daisey first alerted to the bedroom far wall area, somewhat near a receptacle outlet, but sitting/alerting and pointing more towards the carpet.  Dolley followed suit and had the same alert at the same spot.  Such strong alerts and on more than one run of the room have to be considered suspect for bed bugs.  As we are also called on by this particular property management company to investigate further and to service should activity be found, we came back a few days later to investigate.  We pulled b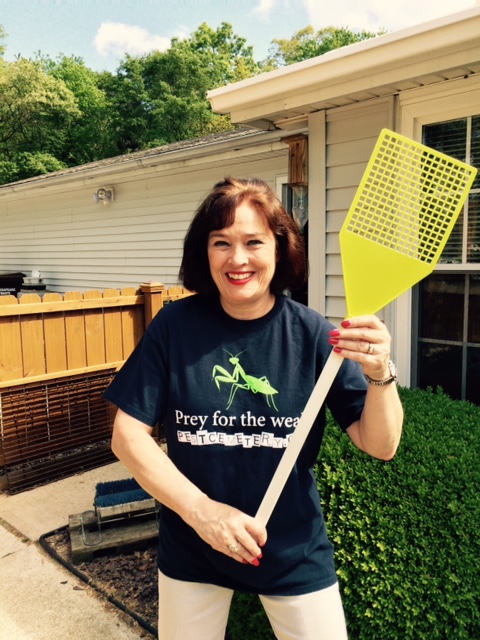 ack the 1/2" carpet approximately 6 – 12 inches from the wall and could not find anything.  We then pulled back the 1/2" padding which revealed the sub-floor.  BAM.  2 live and crawling bed bugs were there.  GREAT FIND BY DAISEY & DOLLEY.    
Locating bed bugs never gets old for this Ladybug Team and it still amazes us when Daisey & Dolley are "spot on" with their findings.  They truly are the Stars of Ladybug Pest Management.  They deserve top billing and they will always have it with us! 

By:  Sandy "Ladybug" Honess
        Frank C. Honess, III
        Ladybug Pest Management, Inc.
        Delmar, DE
        (302) 846-2295