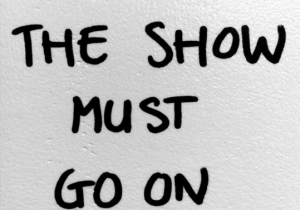 For some reason early on in my career I was tagged as the guy new technicians rode with for training. For better or for worse I've had a hand in seeing 100's of techs through their first few hours, days or weeks of hands on service. (it always depended on the companies I worked for & their requirements-or lack there of) Now certain things like how to dust, when to fog and all the insect biology I can squeeze into their brain in our short time together is always a top priority but one thing reigns supreme.
What is this enlightenment I speak of? It's very simply…

The Show Must Go On
Early on in my students tutelage I'll make the statement; "You've got to put on the show." This almost invariably is followed by a perplexed gaze and sometimes furrowed brow. It seems their first reaction is that we're just play acting and somehow my perspective cheats the client in someway. In my way of thinking however, your "show" reinforces your service and cements the importance of why you're there. If this is true then to me, it's at least worth thinking it through.
What Goes Into A Good Production?
Looking the part;
There is a company in my town that I think is above all the rest in this regard. When you see their techs on a job you see a long sleeved white shirt with their name embroidered over the pocket, neatly pressed slacks, shiny shoes, clean shaven (a downfall of mine 🙂 and just an over-all professional look. They wear rubber gloves, safety goggles and even -dare I say- a mask when needed. Their equipment looks new and their trucks just ooze with the perception of professionalism and one can't help but have full confidence for a job well done as this tech steps on the property.
Acting the part; Now this I'm happy to say is what you'll find with my little company & hopefully I'm not alone. You see, many companies fit the mold of looking the part but far to often, these good looking firms drop the ball when it comes to what in my opinion is more important; acting the part. Now I don't mean to say their service is poor or incomplete. It's just that in the same way your good looks instill a subliminal confidence for your customer, a great performance also establishes your service as a job well done.
I realize that we are in a fast paced, get it done business & that most of us can be quite effective in a short amount of time. The problem is, customers can't normally see your residual, they don't know the decision making that went into how & what you did and this is especially true if you move to fast or are out of sight. Customers need to see THAT you're doing service not always so much WHAT. I tell my trainee's that they need to be visible during their service almost to the point of exhagerating your actions. This is so your clients mind registers that you are dillegently servicing their home.
Your biggest ally is your flashlight of course but that won't help unless you're actually looking behind the couch, under the sink,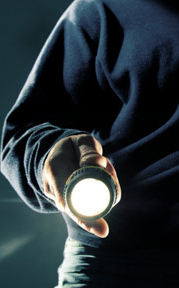 in the pantry etc. When's the last time you got down on your hands and knees to look under a book case? Got up on a step stool to peak over the cabinets. Your client knows.
Now I'm not saying you have to dance and flit around the home doing a bunch of useless things, but make sure your homeowner knows (by seeing you) take that extra measure to pull out the refrigerator, move the easy chair or pick up some toys that might be in your line of treatment. And don't stop just because you go outside. Lift up that splash block under the gutter, that bag of mulch that's been sitting there for 2 years. Pick up the dog dishes before you spray the area and maybe, put fresh water in it when you put it back. (dogs love that) Believe me, customers watch and even though they may not know WHAT you did–they always know THAT you did and they'll echo all your steps when they gladly refer you to a neighbor or friend.