Jerry, I've got my plumber in today and he's looking up under dishwashing rack and says you need to bait up there. It's the worst he's seen in awhile. Can you get out here today?
Hey Stu, my electrician said I have 30 or 40 thousand brown recluse up in the attic and you need to get out here NOW.
Keith, my handyman noticed sawdust where he's working-what kind of termite damage guarantee do I have with you again?

Wow, is this something you've ever heard before? I hope not but the reality is somewhere down the line you probably will or already have. The surprising source of this doubt so often comes from established customers & to me that's real real rub of the whole deal. Clients you've known (or thought you did) and some maybe for quite some time. You've helped them out before in other situations, been the hero with a big bees nest, found termites long before any real damage was done- don't they remember? Now all the sudden they're listening to this intruder who came out of nowhere and giving him more trust than me. What the hell?
It takes a lot of strength for you not to scream out but somehow you bite your lip and remain calm. Usually by the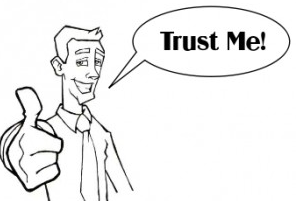 time you get to the account the plumber is long gone the handy mans at lunch and your client is no where to be found. Your investigation finds no brown recluse or you ask yourself bait for what? as all you find under the rack is food scraps and mold. Or that the sawdust in question was from dough boys (our beloved handyman) portable table saw being blown by a fan in the corner. So what'd ya do? Pull your hair out? Scream? Argue with the customer? Call out the pseudo pro?
I know many of you are already saying you'd of never went out anyway-you'd have asked your client "where's this guy's license?" right up front. But me, I usually keep my mouth shut until I've had a chance to visually see what's going on and then by God I let em have it!….. Well that's what I tell my office I'm gonna say as I'm getting the info on the phone. In the end I usually find nothing or what is evident is mis-identified or blown out of proportion. I still say very little until I've scoped out all I can so as not to have any surprises but mostly I maybe shine a light, put a dab of bait and just move about my day.
I REALLY HATE IT when the handy mans word is suddenly gospel and mine is worth nothing but I got a whole day ahead of me and I just can't afford to be brought to a halt over stupidity. I really want to say something but I'm a glass is half full kinda guy and I most often conclude that the customer will eventually forget about it or come to realize who really was the professional. If I am asked or the handyman is there I find that I most often just state the facts and don't get into a full blown diatribe of why I'm right and he's wrong because most often it just gets into a pissing match of whose either got more knowledge or is more believable. Shoot, in my mind the customer already displayed who they were more trusting of so I'll just say the bare bone facts and get on to someone who wants my expertise. (besides, my feelings are hurt)
I know the handyman effect is real in many professions which ironically includes- handymen. But I don't think it's had a name before so I'm gonna go ahead and coin and claim it right now. I guess the point of this article is I know what to call this situation, I just don't think I know how best to handle it. I'd love to hear what you have to say and how you've dealt with or how you would solve the handyman effect.