If you want to make a termite treater mad- sell a full drill termite job on a home that has a bomb shelter. The two foot thick walls and reinforced concrete make for a lovely morning and afternoon and evening 🙂 I was never on any of the techs Christmas card lists anyway and promising work inside one of these rooms definitely didn't help.
In Florida our water table is pretty high but oddly enough I've found several shelters. In the north east where I worked for years they were more common place. Originally these protective rooms were for nuclear fallout during the cold war and many homes at the time were built with the room designed right in them. Those weren't so bad and were not often any contributing factor to a home and it's termites. Most of the problems were with rooms that were 'retro-fitted' after the the home was built and the worst was those built by the homeowners themselves.

I'm not an engineer by any means but I've seen some that were pretty shoddy at best and even though the cement was 2 feet thick, there were plenty of gaps, expansion joints and even cracks that allowed termites and other pests free access. For termites being subterranean, this room was almost like a built in gateway to the homes floor beams and studs. Most often the wood destroying insects were fully protected by the thick walls and in those days with our limited chemical choices we made return trips every year as the swarmers emerged in the spring.
To complicate matters, by this time the cold war was over and many people turned the small dank rooms into a den, office or play room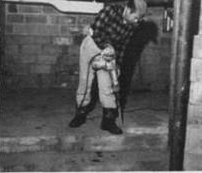 complete with paneling, carpet, the works. Many times we didn't even know the room was a shelter at all until the termite treater called saying his 18 inch drill bit wasn't long enough. Some of the rooms were actually metal, more than a few wood- uh hello- and one turned out to be a huge- I mean HUGE walk in safe. It was always such a big challenge to treat these structures and what we ended up doing most times was trying our best to make a chemical 'island' around the fortified area. It really never worked.
If We Only Knew Then What We Know Now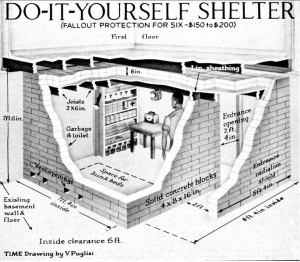 Well now it's 30 years later and although not a lot of bomb shelters are going in the ground, at least where I live they are putting in storm shelters for a safe haven during hurricanes. I still see some of the same mistakes when home owners build them– Can you believe a wooden one, with wood supports and plywood holding back the sand? In Florida! Over all however the shelters are away from the structures here and only semi underground. We do routine pest control in a few and they are quite impressive but very little if anything for the termites to eat. That's to bad too. I'm all prepared now with my brand new Termidor Dry that barely puts out anything visible into the tiny tubes and kills a gazzilion termites, bait stations that intercept and the treatment gets 'carried by the termites to the termites', foam in a can that even the hardest to reach voids get treated without gravity making a mess and all the best non repellants in the world that could do all the work for me in getting my treatment behind those 2 foot thick walls.
Figures-just when I thought I could get back on somebody's 'nice' list, I'm now the termite tech.