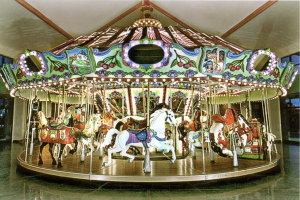 Let's face it, letting someone into our home to provide a service is an act of trust especially if you allow that person access to just about everything and can't or don't follow his every move. Unlike a plumber who may come in and just work under the bathroom sink or a repairman working on your TV, pest control technicians usually go through every room. They see just how you live and snoop about in their quest to make you bug free. Quite often the bug man will hand the homeowner a lost earring or misplaced item that he found under the bed while looking for insect evidence. You might raise an eyebrow if the plumber did that.
Most people are of the trusting nature and allow service men and women to do their work but for a new pest tech it's not unusual for a client to 'pal' around for the first time or two while getting to know this person who'll be servicing their home. Once a trusting relationship is established the homeowner hardly ever goes with them because they are comfortable in the service they provide and satisfied that he or she has their best interest in mind.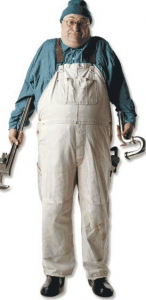 Many PCO's (pest control operators) stay on their routes for a long time and get to know their customers very well. Besides insects they both talk of family, friends and experiences so that not only a business relationship but also a personal one grows. Not that they go out to dinner or exchange Christmas gifts but they do become like friends.
Then one day the company sends out a new PCO and the first question is, "What happened to John?" Maybe he was promoted, moved, got fired or quit but in any case the homeowner feels a little betrayed and now uneasy because he has to go through the process of learning about this new guy. It's a little rough for the new arrival because he's almost always compared to 'John' and he'll have to prove himself worthy and keep reassuring the client by his actions and words. Eventually they both settle in and it all works out. That is the best case scenario.
The other end of the spectrum is that in the course of one year maybe two, is that 'Johnny was replaced with Bill who then left and Sara took over but then Tim got the route only to disappear and have Jim show up. This can be quite disconcerting to anybody and quite often leads to dissatisfaction regardless of how good the service is from any or all the techs. I'm not sure what the percentage of people who cancel their bug service is due to changing personnel but I do know I receive my share of new customers for that reason. Confidence is a fragile thing when you're never sure who is coming out to your home.
I'm not saying this doesn't happen in the smaller companies but it does seem to be a problem more for the mega giants than the 'mom and pop' operations. Obviously the biggest reason is family companies don't usually fire their brother and the sister may get a promotion but she'll still be running the route, she'll just have a nice new title now. Employee retention has always been a issue for larger companies and it's not restricted to pest control.
Early in my career I was given a route and it took me months to get it organized, under control and the complaints down to a low level. I guess I did a good job because 9 months later I was asked to do the same on another route. I did that 3 or 4 times until I was finally given the commercial route. I suppose having to now get up at 4 am almost every morning was my reward for my organizational skills. With each new route I had to start at square one proving myself to new and unsure faces. It was just as hard for me as I'm sure it was for my new clientele.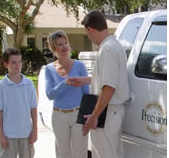 In my business now I purposely send out my techs to different routes. Our office lets the client know ahead of time and that Kevin will be back the next time but he had a scheduling conflict so he can't make it. We assure them that Jason will do a good job and they will like him as well. This eases the shock should a permanent change ever be made and I'm pretty sure we all have met most of our customers. I even get disappointed sometimes when I see a old customer of mine that I had for years and the first thing they ask is "Where's Kev? He still works for you? Right? He is coming back?"
I thought they would be glad to see me, after all I serviced their home for years. My disappointment quickly turns to satisfaction however because I realize my guy's have built a solid relationship with 'their' customers and that is a very good thing.
I never want to experience the downfalls of the technician carousel but I wouldn't mind becoming a huge mega company one day. I suppose I'll need to have about 100,000 more children to keep my formula in tact and of course expand my parking lot. Maybe for now I'll keep it as it is but I wonder, does Kevin have any brothers?