The sun was lowering in the sky and I could see it through the window but that meant looking just passed my accuser and I refused to let her think I was afraid to look her in the eyes. With my month long preparation I became more and more convinced she was running a con game and was suing me for spend money and not termite damage at all. She is perhaps the most difficult woman I've ever had to deal with fresh from New York and getting a word in edge wise at anytime was a huge task. She was belligerent from the moment I met her and was actually the first person ever to 'kick' me out of a home. Our mediation was no different and even the court appointed mediator could only chime in a time or two but mostly just shook her head in agreement with this loon. Now however, I knew I would get my say and this stately looking judge would have to listen to me and the lovely indicter would be silenced.

I was a little unprepared for how the proceedings went because not only did I have to present my case but the judge told me I needed to cross examine my tormentor and her witnesses. ( I thought he would ) I stammered at first because I didn't have that game plan but since this whole scene played out in my head a million times over the last month it didn't take long for me to get up to speed. I put her back a bit by asking how many times she had walked through the home and others with her. She admitted that no one noticed anything abnormal and that she looked it over pretty carefully checking things like appliances and windows. "Nothing amiss?" I said starting to brim with confidence. She said no and instead of a fiery retort she was 'oh so nice and kind' like a southern bell. When we got to the alleged swarm incident I asked her what made her take the baseboard off the wall- "it looked Ok and was solid was it not?" I could tell she was steaming underneath her new hair do and she tried to say that the bugs came from there and it was eaten all the way through. At that point the judge intervened and asked about the pictures she had submitted to evidence. I was waiting for that and I took each one she had and tore it apart. The 2 foot of baseboard was obviously sound on the outside and barely had any etching where she claims the termites flew out.
Without the board I couldn't physically show the magistrate exactly what I saw but I had a few pictures of my own as well and notes on my copies of all of hers. Most of hers were of 6×6 areas where her specialist had cut out the drywall exposing the damage but I couldn't say if it was her home since there was nothing else in the pic but drywall. I had a small white piece of paper cut to just the right size and put it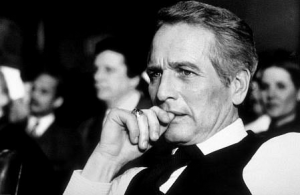 over each dark exposed area and asked her if she could see the damage. She had to answer NO and I was secretly thrilled with how things were going but tried to play it so cool. I added comments like "this is what I saw on my VISUAL inspection, do you expect me to see through walls?" I explained the secret nature of termites, something she would never listen to before and I actually think she started to get it. My level of confidence grew and when I thought I had done enough I wrapped it up and folded my arms and it was now her turn at me.
I obviously got to her and she rambled a bit and was getting nowhere when there was a tiny knock on the door. It was her Home Depot witness who was running late. This shifted the focus to hearing what the corroborators had to say and I think she was happy with that. She wasn't happy with how both I and the judge tore him up. With no credentials besides breezing through the pest control isle when a customer rang the call bell it was easy to discredit him. I asked him how many wings a swarmer has and what the difference is between that and an ant. He had brought some books and began searching for the answer or pictures and pretty much was asked to leave at that point. Her other "expert" was a cocky sun of a gun, he was the young buck who finally sold her the termite job for $700.00 ( $300.00 over priced ) and while he could recall some talking points I'm sure he got from his manager and some things he's heard in sales meetings he really didn't help her out it my view. Something that I think resonated with the court however is that he found many tubes on the slab. That threw me because there was not a thing on that house when I had checked it. It took several question but like a greased pig I got him into a corner and he admitted that he had to dig to the footer to find them. "So nothing was visible when you walked around, no tubes? Live termites?" I said as if I was Perry Mason who had my quarry trapped. "No" he said knowing I had him. I continued, "On a WDO inspection are you mandated to dig the entire length of the home or is it a visual inspection?" Again he said no but added if you suspect something you are. I asked him what he suspected, what did he see and his answer was the exposed termites inside. At that point I felt like I barely escaped a tricky situation and I shook my head to the judge indicating I was through.
It was my witnesses turn and by now I wasn't sure what kind of impact it would have but I explained to the court how we had worked through a difficult problem without lawyers or angry words. He was quite kind in what he said and told the judge how I not only paid for the damage but also performed an $1,100.00 bait service at cost. This meant his renewal fee went up because it's serviced 6 times per year but in his mind that was fair. When I was finished the witnesses were thanked and asked to leave and the time for the verdict was growing near.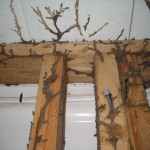 By now the sky was dark and it felt like we had been in this room for ever. It was the judges time to talk and he asked me many questions about my qualifications, training and experience. I knew for sure I had been effective and all that my accuser could do was keep referring to the damage they exposed and say that I had missed it. To my surprise she did bring up her 'repair specialist' when he began asking her some questions and showed him a letter he typed and sent with her knowing he wouldn't be there. That wasn't in the disclosure and I thought for sure he's toss it out just like the store clerk but instead he seemed intrigued. Suddenly I didn't feel so confident and I could feel my victory slipping away. Politely I waited for him to address me one more time and it was now or never for my ace card of 'piercing the corporate veil.' As if right on cue he explained in legal jargon that he knew about my protections under this veil but he was going to not recognize it and had every right to do so. Again it was legal speak and dumfounded I said nothing at all. He also explained that had I not made but one mistake, he would think differently about this case.
If you'll remember part 1 "the mediation debacle" I mentioned I did this inspection 'twice.' The first time was never in question and I listed the termite drill holes as previous evidence of a subterranean termite treatment and all the standard things. My 2nd report however was missing one little check mark and I did not explain about the marks. It was a small error on my part and I always compare old WDO's when I know I've been to that address before. That way I can check to see what's changed or just to make sure I didn't miss anything. The judge explained that not cluing her in on a previous treatment meant she had no chance to investigate further the possibility of termites or damage and for that he found I did not live up to what I was hired for. Further he said that even though her witness was not there the damage was undeniable and I would need to foot the bill for repairs.
I was a bit flabbergasted with his allowance of these last minute decisions but I realized the one truth he said that put this whole thing squarely on me. My job is to give a client, tormentor or not, all the information and that way the ball is in their court (pun intended) and should they use it to make a better choice or not then at least they had the chance.
As my wife and I walked out holding hands we saw that her witnesses were gleefully already up the hall chatting up the big victory. We could hear dinner plans being made and we purposely walked slow enough for them to get in the elevator and shut the doors before we got that far. Oddly enough I felt so much better that this was over and I knew I had learned a lesson I'd never forget. My torment was gone and the plaintiff did have to call later that week to arrange the payment but she was civil and polite. I've not heard or seen her since but I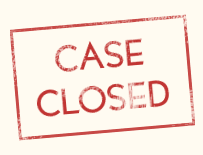 keep records in the attic of all my WDO's by law for 7 years. It's been close to 10 and this report has a special box and still sits there today. The words I wrote on the box are faded somewhat and I think some silverfish have eaten away some of the lettering but you can still see. CASE CLOSED.
Yu can read part one here and part two here: