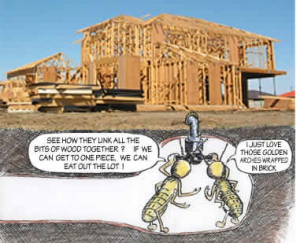 I'm not a contractor nor do I play one on TV but as a termite inspector it helps to know certain structural terms so that anybody reading my WDO (wood destroying organism report) can quickly know what area I've noted. This helps tremendously if you need a contractor to come out and fix some damage and it is most definitely a plus should the state inspector be called out or God forbid litigation come about as the result of a wood destroying insect issue.
As a home buyer it also gives you a clearer picture of what was found and where and you can make better buying decisions as a result. For instance if your inspector noted 'heavy roof rot' on the roof boards near the front of the home you might run from that house thinking the roof was ready to cave in with the next rain fall. If however they stated it was 'heavy wood rot' on the fascia over the front door area you could rest a bit easier because you'd know that it is in all likelihood not that terrible.

What's a fascia?
I'm glad you asked and I hope these two diagrams will help you decipher this and many other terms you may see on your next termite inspection report. Simply highlight or click the diagrams to enlarge and print them out for your future reference. For more explanation on the wdo reports and what you should expect please see my article "Understanding your WDO report." There are also many other articles I've written in the termite topic area that should be of great help as well. Please feel free to contact me via the "Ask the Bug Doctor" page or comment below if you have any additional needs.