A few years ago I received a call from a very angry man. He owned a home that I performed a WDO (wood destroying organism report) on and was furious that I found termites and termite damage. Now on one hand I couldn't blame him. He had the home treated with liquids and with baits which he said cost him over $3000.00 so when I found a problem, well let's just say he wasn't happy.

As with most all of my inspections (especially those that have problems or are complex) I take pictures. It helps protect me #1 but it gives a clear explanation of what I saw on that day so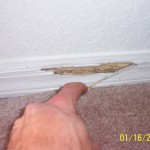 there can be no doubt. This, according to Mr. Happy was my downfall. He was especially upset that I revealed damage which I guess he thought I caused. My picture of using my finger to peel back a small section of trim was something he was going to use against me in a court of law because "pictures don't lie."
Now maybe it was rude of me & I definitely don't make a practice of this but on that day and the way this man wouldn't listen to reason just struck me as funny. So about my 3rd attempt to tell him that if my finger could do that kind of damage maybe I should just be locked up. Laughing uncontrollably I simply hung up and never heard from him again. Maybe his lawyer laughed too.
Can termite inspectors find hidden termite damage with just their fingers? They sure can and you can too if you just recognize the things to look for. Check out this video where I show you what to key in on for and how I uncovered an almost totally hidden live infestation and damage to boot. All this without fancy tools, just me and my –
Strongest Finger in the World.