I grew up in the good ol state of Iowa and we always lived in very old farm houses with barns, corn cribs and abandoned tractors in the yard. Now we weren't farmers per se, we just rented the home but we always had a horse or two around and other assorted critters. Since the Wii wasn't invented yet we had to get a little creative to have fun and rafter tag was an all time favorite which we would play for hours on end or until one of us was bleeding or 1/2 unconscious on the ground. The game was just like 'tag' but with a little twist. Our game was played in the rafters of the old rickety barn and NOT touching the ground was the only rule. As you can imagine this made for some dangerous play time and we took some real chances all in the name of not being "it". I guess this prepared me for my career in pest control because I have definitely had to pull a few olympic moves in some of the work I've done. The following is a quick story of my life after rafter tag and bird work.

The Sail cloth factory
One huge job I sold was an old sail cloth factory converted to apartments in downtown Baltimore. It was a cool building because they kept all of the old beams and and machinery and each apartment was completely unique. In the middle was a huge atrium and the wood expanses cris crossed like a magnificent cathedral fit for king. The problem was that the pigeons loved the handy work as well and they were making a mess. Since I sold the job I guess it was up to me or maybe no one else was crazy enough to do the work but the pigeons had to go. Hey since I worked for the worlds giant pest control company our safety equipment gave us no trouble at all. Oh, that's right we didn't have any! So there I was with a caulking gun of 'roost no more' and 3 spare tubes facing these enormous beams that vaulted into the sky. Even the pigeons were cooing in an uneasy way as I began to shimmy up the wood that probably hadn't been touched by human hands in over 80 years.
The massive beams that looked so big on the ground were now suddenly slim and slippery from dust and uh, poo. My plan was to crawl a little, reach behind me and squeeze out the goo and work my way up the beam. I hadn't considered how draining this would be and my muscles were soon giving out. I had my spare tubes tucked in my shirt against my chest which really was uncomfortable and to move I had to holster the gun in my pants down the small of my back. I think you can guess where the pointy tip went. Ugh! It seemed like it took forever to get to the top and when I made it I thought I might never make it down. I was oh so high and unlike rafter tag there was no escape route or rope swing to rescue me this time.
I was able to rest a little at the peak and actually sit up but that was a reminder of where some of the 'roost no more dripped' and I was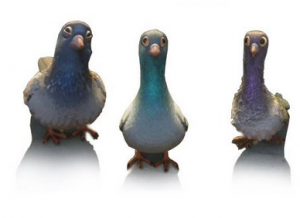 beginning to understand just why the pigeons hated the stuff. Changing my empty tube I decided not to carry it any further so I dropped it down to the courtyard below. I have never seen anything take so long to hit the ground and I realized just how high I was. Well there was that time my brother fell off the corn crib wall, that was slow motion and danged if that was the only bldg. with a cement floor. I was cleared of all charges but I digress. The next beam was easier because I was going down and it really took no energy at all. Other than needing a cold rag on my cheeks I actually enjoyed sliding down the old rafter and within minutes I was safe on a catwalk.
I was so happy to get off those rafters and I was surprised at how my legs were shaking and my arms were numb. Looking up I saw that my treatment had worked because not one bird was walking on the beams and for a moment I felt a real sense of accomplishment. That went away quickly however when I made my way to the next set of these rafters from hell and thought, "only four more to go and I'M STILL IT."