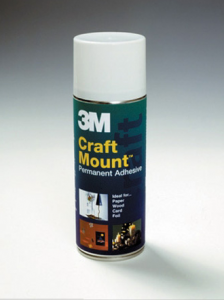 I can see it now, someone who is a speed reader saw the title of this article and ran to the garage and got their can of spray glue and immediately started hosing down the kitchen to address a german roach problem they're having. Not quite the tip I wanted to give you.
Sometimes there are situations that need a quick fix but pesticides won't do. I put together a list of certain times a little shot of spray glue will help. Spray glue will work on almost any surface, is easy to clean up (soapy water) and is fast to apply. Most spray glues stay sticky and that is important, don't use one that 'dries fast', if it dries completely it won't work.
Apply spray glue to;
wire used to hang bird feeders to keep ants away(great for Humming bird liquid feeders)
yellow paper cut to size of playing card, put on popsicle stick and put in or near potted plants, or anywhere gnats are a problem.
base of exterior pets dishes for ants and crawling pests
legs of bird, rabbit or other cages for ants and crawling pests
cable lines that enter home (not electric wires)
tie downs of tents or awnings
base of Rv tires or vehicles that sit for long periods of time
outdoor grill legs
mail box posts
well pvc pipes ants are famous for blocking the contacts (not exposed lines)
gutter down spouts (insecticides won't stick to metal)
small paper wasp nests (be careful glue has no knockdown but it will work quickly)
outdoor patio furniture legs
fence lines touching home where ants are trailing
foundation cracks where bugs crawl in
This is just a partial list of course and please don't abandon smart pest control product use just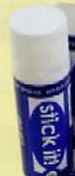 because the glue can is handy. These are only temporary fixes but really so is applying pesticides because it will eventually breakdown and need to be reapplied as well. Some glues will only last for a day or so and there are glue sticks or roll on that may provide similar results.
If you have other areas you can think of or have used this glue trick yourself please share some with us. We can all benefit from hearing of your experience. Well, thanks for sticking around to read this and remember common sense is your best ingredient when doing pest control.