The best time to stop any infestation is before it starts and this is definitely true when it comes to earwigs. If you've dealt with earwigs year after year why not make this the time that you achieve better control and as a benefit I'll show you how to do it with a minimum amount of chemical. Let's look at a few simple steps we can take now that will pay dividends for the rest of the season.

Let's get some stuff up off the ground
Earwigs bodies are flattened and they quite good at fitting in some very tight places. Being able to fit under a planter or door mat is very beneficial to the earwig because it provides protection from predators and a cool place to hide in the day. Getting these harborrages up off the ground will greatly reduce your earwig population. Try putting your planters or statues on wire type stands and get in the habit of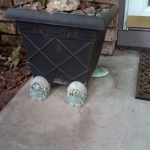 hanging your mats on the back of a chair or something elevated. You can even buy decorative blocks at nurseries that are designed for this purpose. You won't be able to get everything up but look around, especially near your front door and back doors. Anything you can do in this regard will help immensely.
Reduce the moisture
Earwigs won't stay where it is to dry, in fact that is one major reason (besides food) that they move indoors. Don't over water your potted plants or those in the flower beds that are right next to your home. Make sure gutters drain the rain water at least six feet away from your foundation and point all sprinklers away from the home and onto only the target plant or grass. If you put pet food and water outside make sure that it is brought in in the evening. Dripping faucets are a classic spot for earwigs and all kinds of bugs to conjugate so if you cannot get it fixed at least connect a hose and run it out to a plant away from the home. Reducing moisture will deter not only earwigs but many other pests as well.
Seal up your doors
There are probably hundreds of places around any home that will allow for pest entry but why not start with the obvious. Earwigs are scavengers and follow wherever the trail leads so to speak. If they come to the threshold of your front door and they can squeeze by, they will. Look also under the ledge of your threshold and make sure you don't have any caulking that needs to be done. Seal up the door with weather stripping or a door sweep and you'll cause the earwig to just keep moving on.
Treat the mulch
Mulch provides everything an earwig need to survive. plenty of hiding spots, moisture and even food. If you have mulch it is most practical to treat it with a granule insecticide and be done with it. Nothing lasts forever so you will need to do this several times during the warmer months. If possible rake back the mulch and evenly sprinkle granules on the soil. Put the mulch back in place and apply a topical layer which will give you a very effective treatment zone.
Earwigs for many people are nuisance while in some cases the population explodes and then it's an all out chemical war. Start this year off right and take positive steps to keep your earwigs to a low roar and an isolated inside incident. You may not be able to stop them all but taking these suggestions will definitely mean for a marked improvement on the earwig front this year.