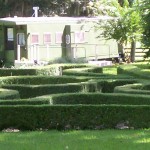 Just when I thought I had seen everything something new comes along. Now I haven't been around as long as some but 26 years has got to put me closer to the top of the list doesn't it?
In my career I have treated underground homes, tree houses, sky scrapers, sewer systems, semi trucks, boats and yachts, campers, planes, vans, cars, tunnels under churches,(scary) as well as horse radish factories, bottling and meat packing plants, hospitals, jails, science labs and even other pest control company offices. (I should write about that one) But the one glaring thing that's not on my list at least until today was a train.
Ok it wasn't a 90 car CSX that was infested with larder beetles, in fact it hadn't moved in years and it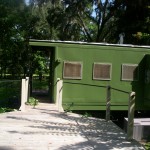 was really just the caboose that is now serving as a guest house in a customers back yard. Truth be told I didn't even treat it but it was a listed structure for the sale of a rather large home so I was paid to inspect it for termites and other wood destroying insects. Being the stat guy I am this one still counts and will now forever be scratched off my list.
I couldn't get a lot of history behind the caboose and find out how and why it ended up in this mans yard but it was quite interesting to look inside none the less. Not only did he have the train but it was sitting on real tracks with authentic creosote railroad ties. A little cramped inside but all the comforts of home were there. It was a bit surreal to view underneath and see a/c ducts and plumbing pipes but other than that it was as if I was boarding a real train bound for some great adventure in the mountains or out west.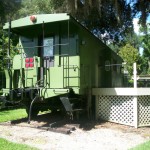 So as I embark on my next 26 years of service in the pest control industry I have fewer unseen things to look forward to but if I end up scratching another one out, I'll be sure to let you know. Some hopeful things would be the space shuttle or perhaps some bird work in the Statue of Liberty.
If you're in pest control tell me what you have seen or anybody who may have an interesting job where they have worked on unique or out of the ordinary things. I'd love to hear about them.
click on image to enlarge