Pest control is a complaint business and don't let anybody fool you. It could be your mother as a client, best friend, pastor it doesn't matter because any bug they see or problem they have that they perceive to fall into your realm they will complain to you about it. Now some are better at it than others and it may hardly seem like anything more than a simple request while others can ruin your entire day as they berate you for the dead earwig they found on their dining room floor. In fact if you think about it the entire business relationship you have with that person is based on a complaint. They either were tired of seeing the bugs and called you or perhaps they weren't happy with a previous company and now have you out, either way it all started with a negative and that at times can mean a long uphill climb.
There Are 3 Types Of Complainers;

#1 The passive complainer who beats around the bush and tells you they still have roaches but maybe the dog brought them in and "oh I'm sure your stuff is working but"… This type of person needs reassurance for the most part and they will often listen intently when you try your best to educate them on sanitation or the way the products work. I never mind these types of folks but I always take what they say seriously because I never want them to become a passive canceler.
#2 The irate complainer could also be called the irrational complainer because to them they can't see why your treatment didn't just wipe out their bug problem the same day you put it down. They can can get real nasty with the office staff and a few carry that over to the techs. They don't always complain about bugs either, thus the irrational title. It could be that you're early or late or they're mad that you don't perform bat guano removal. I think sometimes they just make it up to have something to be upset about. The funniest thing is when they scream at you as you arrive because "you were suppose to be there at 11, you're 2 hours late" and you can't get a word in edge wise as they scold you. When you're finally in doing the service you see the calendar on the refrigerator that says, 'Bug man Thursday 1:00.' It's so hard to deal with these folks but I never pass up a chance to point out in a tactful way of course when I have them dead to rights.
#3 The get something for nothing complainer is probably the worst and the one I have the least patience for- Oh what am I saying? I never lose my cool or patience but inside I'm burning up. They call the office religiously in between regular visits and say they are having a problem. Of course they know this service is free and they may only mention a roach in the kitchen to the girl on the phone but it's a different story when the service truck pulls up to their house. It starts with "the bugs are everywhere" as they point in all directions. They go so far as to list every room and even the closets and give you a run down of dates they saw them, the different sized ones and might even make suggestions as to how you could better do your job.–"Maybe you should treat the attic again" they'll say in a somewhat demanding way. They almost never heed your recommendations for fixing screens or thresholds because they think if they call you out you'll just hose the whole place down again. It gets to the point that you get tired of trying to educate them and if you push to far you know that they'll just cancel and move on to another company. As you re-treat the home you really never see even a dead bug and you know you're the one who just got hosed.
I'm sure there are combinations of the 3 different types of complainers which is a scary thought and maybe even some different types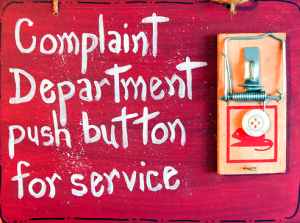 out there I haven't run into yet. I worked for the largest company in the world who used to exert so much energy and resources to save accounts like these and constantly ran the numbers to make sure they never got over a certain % of complaints. Back then it was their contention that it was generally a service problem, in other words, the techs fault. I couldn't disagree more! Given the nature of the business and peoples natural aversion to insects coupled with the perceived stigma of having a bug man in the first place it seems to me the odds were against us to begin with. On top of that we as an industry insist on FREE service if there are ever any problems and so even the passive complainer finds it irresistible to call.
Having said all that, pest control is still one of the greatest jobs a person could ever have. The nice and rationale people still out number the negative ones by a wide margin. Still, when you get that call from your pastor who has sugar ants creeping up around his pulpit and needs you out today just remember what I said. "Pest control is a complaint business."