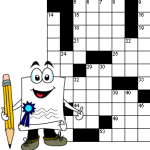 Everyone enjoys a brain teaser once in awhile and solving pest control problems can be just that more times than not. I've put together a quick crossword puzzle for your enjoyment. Hopefully you won't be able to come up with the answers to quickly but if you're stuck for a few days I'll know I over did it.
Click the link and enjoy;
PS. I'd really appreciate some feedback, if you liked the puzzle let me know in the comment section below. Post your times and see if you were faster than our other readers. I'm working on it being able to open up right on site but for now you'll be taken to a fun little puzzle creation site where I made it.