What's the one place if asked you'd say pest control really isn't needed? Well, if you're like me you might say that Alaska with it's harsh conditions would be a place where a bug truck would never go but you'd be wrong. (I was right there with you so don't feel bad) I mean, sub freezing temperatures for months at a time-endless dark nights and never a day where you have zero snow. When I did pest control in Baltimore we looked forward to the first frost because it would put the bug population down like no sprayer ever could but to have it be such a constant factor? Seems to me it would put any bug business out of business in short order. Truth is, pest control is alive and well and a much needed service. Recently I had a chance to interview an influential leader of the State and I was amazed at just how much pest control there is in this frozen land. Kenneth Perry is the General Manager of Alaska's oldest pest control company and I thank him for taking time out to answer a few questions. I have a new prospective and admiration for our tech brethren and the job they do- Pest Control On Top Of The World

Ok– Ken,
How long have you been in the pest control industry?;
I personally started in Pest Management in 1987. That was as the Branch Technician for the Fairbanks area.
What are some of your credentials?
In 1992 I was asked to move to Anchorage and become the Administrative Manager, then in 2001 the General Manager. In 2003 my wife and I became 100% shareholders. During the past 24 years I have been involved in local and state legislation, mostly seeking fairness for our industry in some very restrictive regulation issues. I have garnered a wide reputation in the State, and have spoken on behalf of NPMA & RISE when asked.
Are you native to Alaska?
The word "Native" has a dual meaning here. Yes, I am a "Native Alaskan", being born and raised in Fairbanks, but no I am not an "Alaska Native" which describes our indigenous peoples. So while I receive the annual profits from the Alaska Permanent Fund, I do not receive the benefits given to our Eskimos, Aleuts, Indians etc.
Tell me a little bit about your company-how'd it start, etc?
Pied Piper was started in 1965 to service predominantly the Coast Guard
station in Ketchikan which had ongoing issues with rats. It was quickly sold to a friend of my father who spread it through the State of Alaska. After his death, another mutual friend, my predecessor, took ownership. At one time we had branches in 7 localities, but I trimmed that down to only 3 regional branches in order to have better control over training, safety and quality of service. We now service all of South Eastern from Juneau, South Central from Anchorage and North Central from Fairbanks. We are no longer the largest company in Alaska (2nd), but we are the oldest and considered broadly to be the best.
I understand you're the first man to do pest control at THE TOP of the world & if I heard right also at the bottom.(south pole) Tell me how did that come about?
Actually that was a misunderstanding. One of my competitors had done work in Barrow (our farthest most town) already. My reference was to a personal goal accomplished. My father had worked in Barrow in the 1950's on the "Dew Line" station there, a series of early warning sites. In 1969 he and I made a trip to Key West, at which time he could claim having been to the farthest North AND farthest South points in the US. With my trip there this month, I was able to duplicate that achievement. Besides that personal privilege, I had the opportunity to see a Polar Bear sleeping on the beach that had just made an estimated 400 mile swim from the Arctic Ice Patch.
What's the "state of the industry" in Alaska? ie; is it alive and growing, good training, associations?
Pest Management in Alaska has many restrictions to growth. Since we have no termites here, only General PC is available. In addition, the pest impacts are quite low here, as you can imagine, and very seasonal. Many species of pests common to the "lower 49" ("Outside" as we call it), simply do not live here, and travel in only rarely. Because of this, service routes do not include residential, only commercial. Pied Piper has grown along with the population increase here, and this has been in spite of many "mom & pop" pest control operators servicing the areas. While I am the de Facto spokesman for the industry here in Alaska, we have no Association, and there is not a strong likelihood that we will any time soon. Our governing agency, Alaska Department of Environmental Conservation, has recently raised the testing requirements, but good training is not available except via internet and the two largest companies here (including us), for their own staff.
I understand rodents are taken seriously there–is it true that it is 'against the law' to have an infestation?
Alaska has many unique bird and wildlife species that they protect diligently. They also have many seaports, some of which have (or had) rat populations. As a result, they are very concerned about rats taking hold. Anchorage was the first port city to write regulation about rats. It included a total ban on pet rats being sold or imported. The State later followed suit with tighter rules on rat species allowed as pets and port regulations, particularly in the fishing docks. I have been involved a few times in Anchorage with confirmed or suspected rat sightings, setting up traps and monitors. In addition, we have supplied various agencies and communities with materials for their programs. So far, so good. On a comical note, a rodenticide & Trapping program was setup on Rat Island in the Aleutians in 2009. Since the Aleutians are a large rookery for many migratory birds, it was carefully studied and implemented by US Fish & Wildlife. Unfortunately, reports hit later of possible bird losses resulting from the program, prompting an investigation. Since one newspaper used the headline "Pied Piper rids Rat Island…", they called me thinking it was our company involved, not a reference to our namesake The Pied Piper of Hamlin.
Have bed bugs found their way into Alaska?
Yes – with a vengeance. While our company has serviced for this pest throughout its history, this new outbreak has increased our activity exponentially. If you saw the national news reports last year quoting an 800% increase in Bed Bug jobs in Alaska, that was my company's statistic. While the rate of growth slowed to 550% last year, it is still a major concern here. I average as many as 2-5 calls a day from around the State on this issue alone.
When I think of Alaska & pest control I think more of wildlife–what's a typical day for your company?
Funny you should mention that. Our add in Ketchikan used to say "We don't do Bears!" We do have an abundance of wildlife here, and they do end up needing "control" from time to time, but most are covered by the Alaska Department of Fish & Game. It is enjoyable, however, to sit in my office or be driving around town and see a big bull Moose walk by. And our technicians are trained to be on the lookout for Moose and Bears when servicing the outside of homes. Our biggest summer pest is the Carpenter Ant. We also have an ornamental (tree & shrub) insect management division. On a year round basis we have mice, roaches (German), pantry pests, spiders, etc.
What would you say is your greatest reason for your success?
This business, from its first change of ownership, was developed with the goal of providing safe and honest pest management to our clients AND a good source of income to our many employees and owners. My impact to the company has been the use of less pesticides, honest and responsive service and genuine concern for our clients.
What does the future look like for pest control in Alaska for the growth of your company and pest control in general?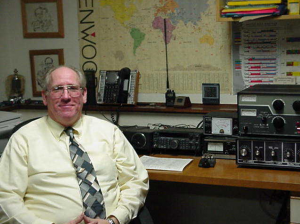 Much remains to be seen. Since we have a small pie, it can only be divided so many ways. I have been determined never to compete on the basis of price, and so we do lose sales from time to time because of that. However, our sterling reputation in Alaska has kept us alive and well in spite of competition and poor economic situations. It is my prayer that our employees and retirees will always be able to count on their income, whether we "make a killing" or not.
Kenneth J (Ken) Perry
General Manager
Pied Piper Pest Control
Anchorage, AK 99507