I don't believe that I'm paranoid and I feel like I am a mentally stable person but I must confess, I think my customers are watching me while I work. I can't prove it and it's hard to accuse someone as you walk around the corner and they're standing there semi disguised by the book case. Or you pop your head out from under the sink and they ask you if you have enough light or the always popular shout out as you walk down the hall, "be careful in the kids room, I haven't cleaned it." I mean, it's their home right but how did they know where I was going?
Trying to escape the home owners ever present glare I duck behind the couch with flashlight in hand and I try to look for any signs of bug activity but that doesn't work to conceal myself. "watch out for dust bunnies." she say's in a veiled giggled tone. The laundry room offers no respite either as the lady of the house informs me from around the corner "I saw a roach in the garage, I'm afraid he got into the the laundry room." Still trying to stay focused I see there is no great way to spray in the garage so I take out a duster and a bait gun and for a short while I enjoy the hunt and treat what seems impossible because of all the stuff. Back inside and off to the back screen porch the Mrs. asks with a big smile "what is that gun you have-did you shoot the roach out there for me?" At this point I'm beside myself, is she stalking me, how did she know when I couldn't see her? I'm waiting for Alan Funk to come out and tell me I'm on the hidden camera show!

I decide to do the screen porch and just go outside to treat from there. It takes about 15 minutes and half way into my back pack
treatment around the home I begin to relax not seeing her at any of the windows. I spray the eaves like an artist and hit all the voids and crannies I can find. I take pride in my window and door treatments and not a drop splatters onto the panes. On this trip I decided to dust the high eaves with my dust pole and sweep the webs away and even get those silken eggs that never come off. My granules around the foundation and bait under the splash blocks of the down spouts and garden gnomes and I'm ready to call it a job.
Back at my truck I fill out my ticket and I've forgotten all about my paranoid delusions but before I can even turn to start for the door there she is with check in hand coming down the sidewalk. Was it a lucky guess that she knew I was done? My anxiety starts to churn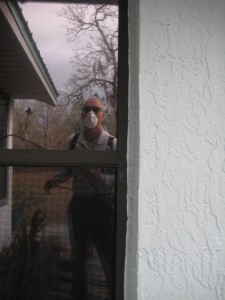 again. She thanks me for sweeping the webs and says she just loves when I treat under the gnomes because she always used to get earwigs there but not since I've been coming. My mind is racing now and I try to breathe easy knowing I'm only minutes away from escaping her peering all knowing eyes. I mutter out a thank you and she hands me a check and with it a sticky note. WHAT? What could she possibly have written and just as I'm about to lose it– She calmly tells me it's the phone number of a good friend who's in need of pest control and she can't think of anybody she'd rather recommend than me because of the great work I do at her home and how thorough I am. She appreciates that I check every area and always treat her home with care and respect. With a great sigh of relief I wave good bye and head out to a great referral lead who I know I won't even have to sell because my customer already sold it for me.
Am I paranoid? Maybe just a little but I know that when I do service, people are watching me and you know what? That's Ok, nothing can be a greater testament of your work, ethics and expertise as when the homeowner sees you in action first hand. Brochures and sales people are nice but they don't do the work, it is the technician who brings the service to life and it's always the little things you do when you think no one is watching that make all the difference in the world. So I can live with the eyes that follow me wherever I go and tracing my every move, Now I just gotta figure out what to do with these voices in my head. 😉