This tech tip comes via e-mail from oldtimer and has to do with cleaning out clogged B&G spray tips without damaging the brass.
Have you ever been spraying along and all of the sudden out of the blue your nice straight pin stream becomes two jets going in two forked directions? Or just as quickly a fine mist is spurting but drops of liquid collect at the tip and begin dripping all over the place? It happens a lot and every tech will experience many times if he hangs around long enough.

A quick fix has always been to gently tap the spray head on something solid and hopefully this dislodges the debris long enough for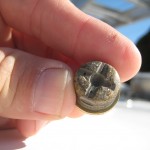 you to finish the job. Then once back at your truck you remove the tip and rinse it or bang it upside down on the tail gate until the obstruction comes out. If that doesn't work you try things like a tooth pick or paper clip and poke and scrape but the holes in the spray head are so tiny and at times all you manage to do is lodge the debris in deeper. The metal these wands are made of is very soft brass and with enough tapping or scraping you actually ruin the tip or disfigure the hole so even with the clog removed your spray pattern may be forever altered.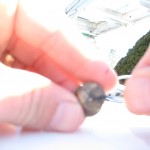 The tip sent in by oldtimer is to use a twist tie from a loaf of bread or other plastic bag that gets sealed with one. It's just a tiny wire covered in plastic and although the metal is soft it is small enough to fit even through the fine pin stream hole of your B&G tip. You need to remove the plastic from the twist tie by scraping it with a knife like you would an electrical wire. The nice thing about using a twist tie is that when done you simply tie/twist it around your B&G holster ring and it'll always be there ready for you to use. If it breaks simply scrape some more plastic away and you're ready to go again.
I have this problem mainly with my back pack and you can see by the pics that I've succumbed to some over tapping and you can even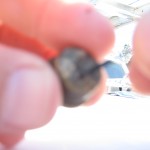 see my old paperclip that I have hanging on my sprayer that I used to use. So when I got oldtimers tip the other day I decided to try it the next time I clogged up. Today was that day. Sure enough the wire was small enough and I dislodged the debris and was off to the races once again. Thanks oldtimer, that's a great tip that I will use from now on.
For the pros who read my musings I'm sure you all have many more tips just like this. I think we'd all benefit to hear them and if you don't want to write out an article on it just pass it along to me & I'll type it up. If you're so inclined I invite you to put in a link to your site or even your business sites address or contact info. (you don't have to) It's a great way to advertise and get a valuable back link at the same time. The simple ones are the best but I'm up for some chemistry 101 if you got something along those lines too.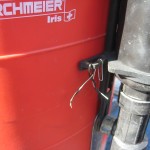 Make sure to join my facebook group pestcemetery.com where we share a lot of insight and rub it in to people who spell funny;) I'm excited that a lot of homeowners ask questions on the ask the bug doctor page but it can also be for a tech who has a question. Nothing is displayed or posted there unless you give me permission so feel free to ask me anything you like. While I'm plugging things, why not sign up for my news letter as well? It's just to the right of any article and only takes a minute to sign up. I don't spam anybody but I do put out a periodic letter based on current bug trends or relevant articles. The news letter is designed to be phone friendly and as such is always short and to the point.
Hey Thanks old timer for the tip, you can always count on the pros to help you to 'keep shooting straight'.