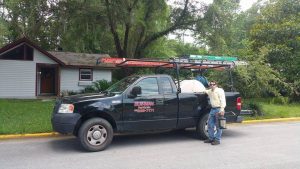 I'm beginning to hate IPM
Sometimes the phrase "IPM" which is commonly thrown around in modern pest control lingo makes me sick. I'm tired of hearing companies advertise "we use IPM, integrated pest management". Even the certifications that companies brag about receiving for using "green methods" have become irritating. Some people work hard for that patch and are well deserving of receiving some type of certification, but too many times, it's a companywide deal and everyone has to go through the chore of gaining certain certifications. I've even heard of branch managers filling out all the paperwork and submitting the required information to the certification provider. Why would I want to participate?
What exactly is IPM?
I think IPM began as something great. Something that reminded us that there is more than one way to skin a cat…and glue boards weren't the answer. An idea taught to pest pros, farmers, and others to use the environment we are given and tackle the situation strategically. Heck, an idea that reminded us that it might be the environment that needs to change. In my mind, IPM is a common sense approach to pest management.
If you ask 50 pest control techs with an average amount of knowledge and experience in the field what IPM is, you would get 50 answers with many falling into the overflown barrel labeled IPM. These explanations of IPM go something like this. Integrated Pest Management is using non-chemical applications inside homes. (Pretend it's a residential tech) IPM is using safe alternatives to chemical applications. IPM is using glue boards. IPM is starting with the safest method, and then if that doesn't work, try the next safest thing, then keep on moving down the pipe until you solved the problem. If the last sentence was the true meaning of IPM, count me out. Pest companies would be out of business. Imagine techs having to make 3 and 4 trips to solve a simple 1 trip issue because they didn't use the best method the first go around. And by best method, I mean both reduced risk and effective.
Green Pest Control
So many companies advertise "green pest control". I once heard a well-respected 50 year pest control vet say "I'm not into that". I heard him say that about "going green". At first, I was thinking to myself that this guy was foolish to say such a thing…especially out loud. Well, I think I figured out what he meant. You see, I use products that work. With many of my customers, there isn't such thing as an acceptable pest threshold. If an American roach (palmetto bug to most) is found inside their house, it's going to either be dead, or on its way…Preferably on its back with the legs twitching, paying the price for invading the customer's home. So many times I've heard the phrase from techs, sales, and the general public "Well its Florida, you're always going to have the big flying palmetto bugs". Hogwash. Cop out. You see, if there was an over the counter product, or one advertised by these "jump on the wagon, new to the industry" companies that was "green", EPA-Exempt, and provided the same results as the products I use, I still wouldn't use it! The products that I use are made by companies like Bayer, Syngenta, BASF, Rockwell Labs, CSI, etc. These companies spend millions of dollars per molecule researching and testing the active ingredient and the formulation being composed. Millions of dollars are spent testing the efficacy of the product, as well as health and environmental impacts of the product being used. They are hear for the long haul.
EPA EXEMPT
Here's the point. EPA-Exempt products aren't required to do extensive testing. Who gets to play God and say that these "green" products are safer than traditional pesticides? When you start to use the word "safer" in the modern pest control industry, more often than not, anything that comes before or after that word is simply not true. "Well, baiting for cockroaches is safer than tenting the house and shooting it full of methyl bromide." C'mon, that's not what I mean.  What I mean is something like, "exterior only pest control is safer than indoor pest service". Which brings me to my next point.
Exterior pest applications
Exterior only pest control. Does it work? Yes. It is fiscally advantageous? Of course. Is it "safer" than indoor pest control done appropriately? See, there's the word "safer" again so you know that sentence isn't true. Exterior only pest control is great. It's half the work, less chemical, mostly effective, and minimal scheduling concerns.
There's the big one, no scheduling concerns compared to indoor pest control. People are at work these days more than they were years ago. People were more trusting of technicians coming into their home years ago…Pest companies were more trusting of their employees to go into customer homes. It was common for techs to have keyed accounts years ago. Exterior pest control limits the scheduling conflicts technicians have with homeowners trying to accommodate each other's busy schedule. Be ashamed if you boast about claiming that you provide exterior pest control because it's safer and less harmful than indoor pest control. Pesticide applications indoors, when done according to the product label are targeted in a closed environment. No worry about disruption from Mother Nature. No "harmful" effects of pesticides washing off of the house and leaching into the soil or contaminating the environment. I think some of these "We only use green products" or companies who say "we do exterior only because its 'safer' should only do interior pest control from now on to prevent product related environmental contamination.
Technician Appearance
Technician Appearance is my next issue. Somehow, there is a mindset that green pest solutions is coupled with a light colored polo, and soft tan or light colored khakis. I remember a plumber showing up to my house in a white polo and nice light colored khakis (either ironed or wrinkled) and those clothes held him up from investigating places he normally would have because he didn't want to get his khakis dirty.
Don't be mistaken. I'm all about looking professional. But what exactly does it mean
to look professional? My version of a professional appearance is neatly groomed, nice shirt tucked in neat (especially long sleeve button ups), and a pair of pants that both look decent and can withstand some dirt and mud throughout the day. Getting on your hands and knees is part of the job. Nice fitting jeans with a tucked in shirt that is worn by a confident technician makes for a happy customer. Jeans are even acceptable in many churches these days. Unfortunately, not every tech can look professional in jeans because there are too many variables. They may be too long or too baggy. Walking on the bottom of any pant leg because they are too long is plain unprofessional. Baggy pants are unprofessional. Stained or torn pants are unprofessional. The differences in jean styles are issues as well. You have slim fit, loose fit, regular fit, dark blue, light blue, and black jeans. You also have different types of pockets and designs as well as pocket sizes in the back that can be depicted as unprofessional. I personally wear regular fit rustlers from Walmart with a wrinkle free long sleeved company shirt nicely tucked in and secured with belt to match my work boots; however, my techs wear dark blue dickies. I gave them a shot with jeans, but soon realized that I didn't like the way they looked some days and it was difficult to explain the reason why this pair of jeans is unacceptable. It is just too hard to enforce. My appearance means a lot to me on the job and for me personally, jeans is the answer. The appearance of the technicians representing my company means a lot to me on the job and for them, it's a dark colored pant that they can get on their knees in the warehouse and investigate potential pest activity under a row of pallets. Talk about unprofessional, try khaki pants stained brown from being on your knees at the previous job. Pest pros are not nansy pansy, well at least they shouldn't be. Pest pros are tough, confident, and not afraid to get dirty. Pest pros do more than place and monitor glue boards. They investigate. They do whatever it takes to get the job done.
Pest management has come a long way over the years. We have better products, better testing of products in relation to environmental and health concerns, better resources, and better education. I love the industry; however, I'm not crazy about the "go green" and "we only do IPM" advertising that has taken over. I'm not fond of employees wearing clothes that aren't suitable for the job they are doing or the job that might randomly come in throughout the day. I'm tired of the thought that IPM is not using pesticides, especially liquid formulations. I trust the products provided to our industry by the chemical manufacturers that support us. I trust them to provide us with effective products that pose minimal risk. But I'm not going to build my business on a "go green" bandwagon that is either falsely advertised, misleading, or not effective.  A true environmentally friendly pest control program can be offered by using some of our pyrethroids, neonics, organophosphates, and other classes of chemicals that don't fall under the "all natural" and many times ineffective products routinely advertised.
These thoughts aren't intended to come off as bashing. I hope I've been able to organize my thoughts and turn them into words that paint the picture of the idea I'm sharing.

Contact Larry Wise
Q?
Do you offer green services?
A.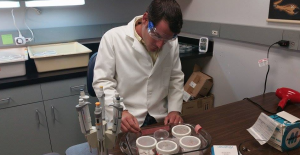 Not per say. What we offer is smarter, more effective pest control based on science,
without unnecessary pesticide use. Statements that many companies make such as "We only use effective products that are all natural", are often misleading. You can take that to the bank. How do we know? Our urban entomologist focused on and researched essential oils, botanical insecticides, and EPA Exempt products during his tenure as a scientist at the University of Florida. The data that he obtained resulted in us not using many of these "all natural" products in our Jacksonville Pest Programs due to the ineffectiveness to control target pests. You work hard for your money, and we want to give you the best service money can buy. To do that, we promise to use products that work, and apply them according to the product label.