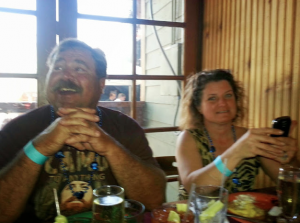 I started my working life at 15 years old in several service industries. Waitress, hostess, fast food, employment agency, moving company, sample demonstrator, switchboard operator, among many other jobs that I floated through looking for a career. I started my career life at 19 years old in the "Public Service/Law Enforcement" industry. I thought I had, but just never found my niche.
I was in my mid-30's, when I stumbled into pest control. I started dating and quickly became engaged to a guy who was "a bug guy". He asked me to help him out and work a "Temporary, Part time" job in a large family owned pest control company office. "Only until they hired a receptionist, or the lead secretary returned from maternity leave." One 45 hour week later, I was hooked. So much for "Temporary, Part time". I was hired full time, permanent. 
Bugs and pest control were cool and fun. I had a whole new challenge to learn. I love research and learning and I knew nothing. Well okay, I knew, that roaches, and potato bugs made me scream and run. I knew that REAL well. I threw myself into it.Within 6 months I had studied, learned, tested and acquired my general pest and termite field representative licenses and my Agricultural license with 3 categories.
I felt like I was part of the family. Hugs from the owners, thank yous and appreciation for doing a great job. Great people in our office. Felt like I belonged there. I was there for whoever needed me for anything they needed,. This wasn't work.
Everyday was great, looked forward to everyday….. for awhile.
Then one day, my now husband,  gets a phone call. "We are offering you a promotion, but your wife has to resign or transfer out of your office, if you accept." He told me and I thought "What am I doing now?" I wasn't going to stand in the way of his 20 year career decision and his opportunity to move forward and upward.
That actually was a new path that I had never planned on taking. A few conversations with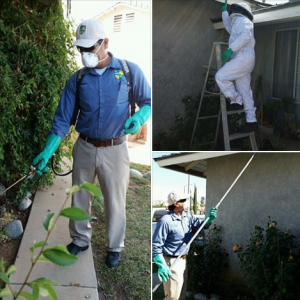 corporate and a compromise, and now I am moving to the field. No more secretary, now I am a technician. Okay, no more office clothes. Need to order uniforms and be Gil, John or Jose for a few weeks until I actually get my uniforms, and they are the right size. New challenges, new things to learn. Get out of my way, I am going to do this, because I know he can manage this office and move up the ladder.
Over the next 9 years, he was a great manager and I was a Sentricon Technician,  termite inspector, and a commercial technician. The field was awesome. Met great people, interesting characters and saw some beautiful homes. Each time I changed positions it was because a challenge was thrown my way. 21 interviews for management and always being told I was only lacking that one thing. "Sorry no termite experience, sorry no real pest experience." I actually got my AZ licensing and my ACE because of those promotion rejections. I guess I am a little stubborn and don't like obstacles.
The next "What are we doing now"  my husband and I had to face were really out of left field. The 90+ year family owned business we worked for was sold and we were both moved along. Where is our career path going now?
We are working on our own family owned businesses and hoping that everyone who works for us has the enthusiasm and determination that we had for our previous owners. 
Come by the home office for a hug and a thank you for all you do.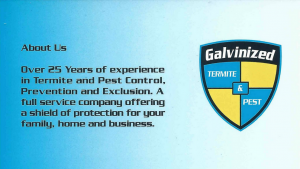 Dawna and her Husband are proud owners of Galvinized Termite & Pest Control. Serving the Temple City, LA County, and portions of Riverside, Orange and San Bernardino Counties in California.
(626)287-6683