Struggling to start a new business is tough in any economic climate. Do it when times are bad and the competition is out there clawing and climbing all over you just to get that all important client before you do. Do it when things are good and hesitant entrepreneurs suddenly lose their shyness and companies are coming out of the wood work so the fight for new customers is just as fierce but the punches just come from different directions. Needless to say starting a business (any business) is very difficult and if you add unnecessary or unforeseen problems it can be the nail in the coffin.

For those of you who don't know me I'm a 100% kind of guy in almost any endeavor. I play in 24 hour paintball tournaments, volleyball, mountain bike, teach Chuck Norris karate- OK that's a lie but I guess you get my point. The thing is when I do these things I play hard and I play to win. Now that's great when you're a teenager and immortal but hardly the recipe for good things to happen when you're in a brand new state, don't know anyone and you've started a new business. Such was my dilemma twice in my early days and but for the grace of God and my unselfish wife I made it through despite myself.
Like I said I'm into sports and volleyball and paintball are two of my favorites but both were almost my demise. One v-ball season I was crashing around, diving off the walls for digs etc. when I had an intimate encounter with a trash can. If you've seen the pictures of Brett Favres purple leg after the 2009 NFC Championship game then you have an idea of what my leg looked like after that dumb move. To make matters worse my little truck was a stick shift and there was no way I could drive that thing let alone walk. At that time my route was pretty small but I had enough to keep me busy and somehow still pay the bills. Not working was in no way an option but crutches and a clutch wasn't going to work either. Not to fear come Monday morning as my wife who is a registered nurse quietly put on a Bug Doctor shirt and simply said "Let's go." For the next week she braved the brutal Florida sun and did her best to treat the houses, spray the yards and put up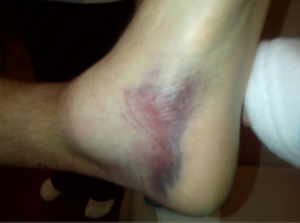 with me and my whining. For the most part the customers got a kick out of it and some that are still with us to this day tease and say "when you gonna send that good looking tech back out?"
A year later maybe less my self destructo mode kicked in again but this time on the battlefield filled with paint. I was sneaking in the enemy base crouched over so as not to be seen and my back went out like nothing I had ever experienced before. I wouldn't wish that pain on my worst enemy and I feel for anyone who has had the same. I was unable to move and in tremendous pain and couldn't even bend over to check a trap let alone treat a home. Once again, my selfless bride dawned the shirt I promised she'd never have to wear again and got out there in the trenches. By this time I had some pretty decent accounts and they weren't easy. As she'd drive to the next stop and every bump in the road sent excruciating pain through my body I'd tell her what to do at the next job. I eventually got through it but I had chiropractors, electric therapy, pain shots, the whole works. Even when I could get around there were times I couldn't even bend over to tie my shoe, I was nagged with back pain for 10 years and it wasn't until a client insisted I try her inversion table that I finally found relief.
The point of my story is that start up pest control companies are very hard to get up off the ground and that's even if everything bounces your way. So many new firms start every year in my town and it isn't until sometime later that you realize they have just quietly slipped away. Now if you like skydiving or mountain biking or anything that could quickly incapacitate you my advice is to at least have a plan. Maybe you have a buddy in the business who'll take charge while you're out. (I do) Or maybe you need to have a few applications on file where you can quickly call someone in. I don't have all the answers and thinking in this way about your business might seem a little far fetched. But as you lie in bed trying to recuperate and are scrambling for a plan, don't think about calling my wife, she's retired and hung up her bug shirt for the very last time. As for me? I think I'm gonna keep my plan in place.