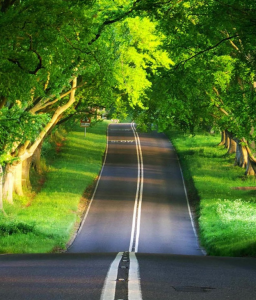 As the truck rounds the corner a wave of familiarity gently flows across his mind. It's been 10 years since he's been on this street. Ten years. Although he doesn't see the old broken down basketball hoop precariously anchored to the curb by a pile of bricks and a mob of carefree kids just happy to be outside, not much else has changed. He remembers losing— ;)– a few games of H-O-R-S-E he played when back then, time was a little more free. The old Oaks still stand with their canopy casting that most welcome shade. The Johnson's home still looks like it should be on the cover of Better Homes & Gardens and the neighborhood dogs (although not the same ones) still run up and down the tiny white fence lines announcing his arrival. Ten Years!
Pulling into the driveway his mind flows back to the earliest of days. This woman worked with his wife and was a customer practically from the start. Back then when life was a long period of serious doubts and the only thing he had an abundance of was time–Back then when his company was barely an embryo and had no real chance to survive. (or so they said) But she was always faithful, always took the service and ALWAYS promoted his little company. Eventually the whole family became customers and a couple of them said it was just to keep her quiet,— he cracks a smile because each is still a client to this day. They swapped a lot of stories over the years and each knew each others history as they grew their business / friendship bonds.
It's been a long time since he's walked through that door, too long, and so with a bit of excitement he rings that bell, eager to hear how his long time friend has been and anxious to tell her about all the great things he's had happen.
To his dismay and a bit of a shock, she doesn't know who he is….

Bewildered But Trusting
With the familiarity of the uniform and that unmistakable truck parked in the drive she has no problem letting him in but it's obvious she knows this isn't Kevin, the guy she's had for the last decade. Not nervous but somewhat disgruntled she makes mention that the office should have told her someone 'new' was coming out. Sensing that she hasn't made the connection he tells her that the regular tech is on vacation but not to worry, he's been here before. At first he's astonished that she doesn't remember him so he goes about his service dropping hints of who he is and recalls a few stories of old. " I was here during your Boxelder invasion & we had to spray the yard" he says almost in desperation, wanting her to finally put two and two together– "You got mad at me for making you spend $60 bucks when after your sons chopped down the tree they were coming from and they disappeared, remember?" She did recall the invasion but it was obvious she did not recall him.
Something Clicked For Both Of Them
Perhaps it was the persistence of this entrepreneur to have a reconnection using old stories or something else, who knows. But something clicked and somewhere in the service this long time client began to tell this man about her history with the company and the owner she once knew.
In her still proud but now frail voice she began," I was one of the first customers they ever had, number 3 they told me. Third one! I worked with his wife and that boy worked his tail off trying to make a way for his young-uns. He used to come out all the time and he really knew his bugs."
Suddenly it was as if the flood gate of memories opened widely and this long time friend called to mind all sorts of information that even he had forgotten, but alas, not him. She spoke of his professionalism, how he took his shoes off at the door and that because of his care and concern, she gave the company a key to her home, something no one else has.
"I got him a lot of business, my whole family uses him and my church! He's gone off and made the big time now–he's got trucks and even a secretary. You know you made it good when you got some gal answering the phones" she say's still not knowing the man to whom she speaks.
It's then he recognizes that she'll not likely to put the face with the name. That this bold, proud and strong woman has been afflicted with a insidious disease that robs her of her most precious gift. He's seen it first hand with his Mother-in law and so sadly, quietly, he listens and he's amazed at what he hears and the detail in which she recounts.
The Eulogy Ends
The home, although so familiar is suddenly dark and a little bit cold as she recounts her tales and admiration for a man and his vision that he and his wife worked so hard for. His long time friend bounces in and out of clarity and stories and the great company she helped build and warns her 'new' technician to not wander off, — "You won't get a better person to work for." she say's as she reminds him she's paid for the year (as always) "so don't even bother with a receipt". The words he heard that day were kind, sobering, humbling and painted a picture so clear….. she shows him to the door.
With her goodbye, she reminds him of where the key is hidden–"In the plant by the side garage door" (which is the place HE chose over 20 years ago) "I'd never do that for just anybody but, since you work for him—you're alright with me. Then with a chuckle she say's, You tell him I said hi, if he ain't forgot all us little people that is."
As his truck turns down that familiar but now o so lonely street– he wipes a tear from his eye, thankful for the people who are his bedrock for his business, grateful for a God who has sent such people his way.
Be good…..Do well…