We in the bug business must be a trusting lot. Is it because of our uniforms with the cute bugs on our pocket? Or you are so busy you just can't wait around for the service man? Maybe it's more of a case that you just don't want to be there when we come through your home spraying for all those nasty bugs. Whatever the case I got to wondering today as I did 3 key accounts and 2 "doors are open" jobs, just where do you leave your key? Do you leave keys for other people as well or is it just the bug man?
I have been in the pest control industry for over 25 years and it's been this way from day one. My first few days training with my manager, we must have serviced 3 or 4 homes where keys were left for us. I remember how that amazed me and perhaps over the years I've forgotten that till today.
Our office has 4 key drawers chock full of keys to houses, sheds, gates and even a boat. We have a large file that is also brimming with gate codes, alarm codes and combinations for the 'newest craze' on hide a key devices. I'd like to say I've known some of these folks for years and years so that's why they trust us. The truth is that I haven't even met some of my customers because they are never home and these people have been with us a long time and happily refer us to friends and neighbors.
Besides the keys we have our daily route sheets almost always have in the note section just where the key is hidden or which door of the home has been left unlocked for us. Some accounts always leave the doors open and we don't even need the note anymore. People do get pretty inventive as to where they hide their keys but sometimes it's so obvious that I think any ol ner do well could come by and let himself in.
Some of the weirdest places I've had to get keys have been; in decorative ponds or fountains, electric meter boxes, fake rocks (which LOOK fake), dog houses, in unlocked cars, under dog bowls, in barbeque grills, mail boxes, fake sprinler heads, landscape statues, phony thermometers, on dogs collars, flower pots, nooks of trees, under the mat" which is what 95% do and so many more. Like I said some are too obvious and really if you're going to leave a key you should think about it and maybe consider just giving the office one. In our company we code the keys and they never leave unless being used for service. If God forbid one was lost, nothing on it is identifiable except to us.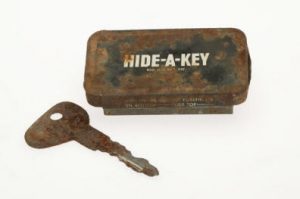 Leaving a key does make life so much easier, you don't need to wait around or rush home and your tech can also breathe a bit easier knowing that if he needs to, he can be a little late or a few minutes early depending on how his day goes without the fear of inconvienencing you. It's kind of a win win. Over all I'm thankful for the trust but I still have one question.
So, just where do you leave your key?