Cooler weather tends to drive all kinds of bugs inside our homes. Because bugs are not warm blooded animals and roaches in particular are very sensitive to the air around them this only makes sense. Add to this our open doors and windows or the heat being cranked up and the bugs that were once happy to be outside want to continue their pursuit of happiness inside our homes.
Typically this time of year big roaches move in and aren't really that inconspicuous. Even folks with regular pest control service often find a behemoth roach high on a wall or scurrying on the kitchen floor. One might think that because of their size they would be slow moving only to be shocked at their speed when dodging your best stomp moves. At times you might see more than one but so often it's just the same one that eluded you earlier just coming back out thinking the coast is clear.

It's disappointing to see these giants especially if you have a professional treating your home and perhaps they just treated not long ago. Take heart, the service you paid for is probably just fine and within time the roach will succumb to the barrier and you'll find it belly up. It doesn't die right away because that's not how treatment barriers work and it'll need time to come down off the ceiling (where your pro cannot safely spray) and settle in to a cozy crack or crevice where he'll get a lethal dose that begins working on him right away.
Ok, so this may not seem like a lot of help but maybe this article validates what you've already heard from your bug man. The truth is most pest professionals don't like just spraying for the sake of spraying. More chemicals won't kill the roach any quicker and as so often happens you make the call, your service tech comes out the next day and with a quick look around you find the huge corpse (perhaps still kicking) on its back and the problems solved. Not satisfied and your tech standing there with sprayer in hand the natural thing to do is add more spray on top of what already killed the roach in the first place.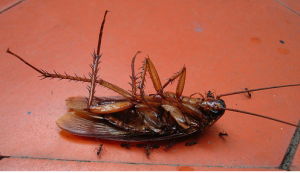 While I'm a huge believer in education and something called IPM (integrated pest management) which gets the customer involved I seldom see it work. Choosing the path of least resistance, I have been guilty (just this week) of spraying to kill dead roaches. Some of what we as pest control professionals sell is security and no matter how much we assure a customer of the process and how the barrier is still working it doesn't wash real well when you have a roach thats as big as a mouse invading your home. Even in this age of instant information, acute awareness of the environment and chemical avoidance for health it seems that with each cold season that comes bug men everywhere will continue killing, dead roaches.