In our never ending quest to find reliable and effective ways to control insects pestcemetery.com invites all pest control professionals to give their insights that only their training and experience can provide. I'm thrilled to hear from these great men and women and love to learn the new things they bring to the table and techniques I have never heard of.
I put the invitation out here many times and on my facebook group pestcemetery.com (you should join) and today we have a nice little tip that demonstrates how to take down a bees nest without using any traditional pesticides at all.
Dan Atkins is a supervisor for Johnston's Pest Solutions in Tucson Arizona and has pest control experience dating back to 1992. Dan posted a picture of a rather large bees nest on our groups wall and while the picture was impressive enough, so too was the way in which he handled it for his customer. Here is the discussion and Dans 'tech tip.'

Jerry Schappert; Whoa! That might be a little more than my 'fan spray' trick could handle. What'd that thing weigh? Any inside the attic too?
Dan Atkins; As you can see in the photo, the bees are sitting right on top of the attic vent. Not one bee went into the attic. I bet it weighed 50lbs or more.
Vonda; We shop vac them, then spray. Faster results. Plus it's fun : )
Paul; Great photo Jerry…did you end up treating?…what pesticide did you use…maybe different than here in Australia, that's why I am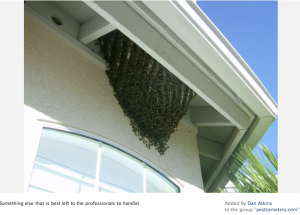 curious.
Jerry Schappert; Dan was nice enough to share this and I can't remember how he conquered it. I think Facebook will alert him to this added comment so hopefully he'll let us know.
Dan Atkins; Nothing more than a little soap and water. Than a lot of clean-up.
Obviously Dan is a little modest so I contacted him and asked for a little more on the subject and this was his reply;
Dan Atkins July 3 at 2:13pm
When bees are sprayed with a soap/water solution. They die almost instantly. Bees breathe through spiracles on the body. The soap blocks the spiracles.

It also sticks wings together making it hard to fly.

Just don't use too much pressure when spraying. So as not to "blow" bees off hive. I use a birchmeier back pack when spraying.
Quite a simple treatment for a great big and potentially dangerous problem. Dan's caption on the photo sums it up very nicely and I couldn't agree more, you'll need to click on the picture to see it and get a better perspective of just what he was dealing with. With so many experienced pest control technicians around and some really great companies like Dans I would hope that pest control is something people would leave to the experts especially dangerous bee work. Things can get out of hand quickly and it's when we disregard the warning signs or take for granted that a certain product or technique is a silver bullet that we can get into some serious trouble. There's an old saying that captures this thought pretty well, "Don't throw the baby out with the bath water." Dan has just modified it a little bit.