I have a few hard and fast rules in my life that I rarely veer away from. I think of them as life lessons that easily adapt and are applicable to many many situations. So I cite them often. My family however, has heard them so many times over the years that they'll even do a "pre-emptive" quotation of them trying to stop me when they sense one of my long winded diatribes coming on.(I'm pretty sure they still love me) Out of all of the ones I can think of, these are my top three.
#1 Never dive head first into water which you haven't checked its depth.

#2 Learn to kick the football and you'll be set for life.

#3 Never join or become a member of anything,

Rules Explained

#1 The water may be inviting, others may be doing it and goading you to join them. But the shiny surface of the water easily hides a dark and dangerous shallow bottom or other dangers that a quick inspection could allow you to avoid.
#2 The behemoth lineman get no credit and are maimed for life, the backs have short careers and are always replaced by the young bucks and the quarterbacks who get all the glory always have a target on their backs. No one scores more points than the kicker, he can play much longer than any other position and while the other men get bloody and bruised for 60 minutes, he can walk in the contest with a clean uniform and quite often win the game.
#3 if you do, expect unexpected responsibilities, duties and time away from learning to kick and swim.
A Closer Look At Rule #3

Speaking specifically of #3 I have only strayed from this rule 3 or 4 times in my life. My wife & I were joined in marriage some 30 years ago. I think that was one of my brighter ideas. I joined a paintball team after years of playing the lone wolf.(successfully I might add) We won a National championship and got to travel the country- we were truly a band of brothers. And, I joined the Certified Pest Control Operators of Florida, CPCO. Easily the best decision of my pest control career.
I could go on and on with the list of the many benefits, and there are many- but to be honest, there was just one reason I broke my rule and became a member of CPCO.
For years being a single operator in this big pond of the pest control industry I always felt like I was just a small fish that did not matter. It seemed that all the how to grow books & trade magazines offered was how to manage your HR (human resource) depts., or how to choose an accountant, or the challenges in dealing with fleet management. Of course my favorite, the top 100 company list, talk about a downer. Hey, if it wasn't for google I wouldn't know what an HR dept. was and the only fleet dilemmas I ever had was how long could I ride on my old Rangers tires before I had to cough up $200 bucks for a new set. Where was there any help for me? Where were my resources for the reality I and so many-(indeed the lions share of the industry) were facing?
Sure there were associations out there (both National & state) but I wasn't keen on paying dues according to what I made and to be honest, they only seemed like an extension of the 'big companies rule' mind set. I feared that with my cashed dues check, I would just become another number that feeds the big machine.
So for me help came one day when I heard about this little association called CPCO. The dues were $100 which at the time might as well have been $1000. But I decided to join because this association thought I was important. In fact it was started partly out of frustration with the big alliances. The one stated goal that really hooked me was that the one primary focus of the group was to be that much needed aid to the small operator. That's all I needed to hear & I was in.
Since joining I have never looked back. In fact my decision was soon confirmed when I once called the CPCO office. I don't even remember why it was I called but on the other end of the phone was the president of the whole darn thing—talking to me! We spoke for quite some time and instead of fluff or a "buy something" conversation this person was truly interested in me-how my business was doing & how he could help. Perhaps you've heard of the guy- Mr. Mel Edelstien, "2001 inductee into Pest Control magazine's Pest Control Hall of Fame.
Since then CPCO has grown to the largest State Pest Control Association in America but you'd never know it. When you call you still get a helpful interested person on the other end. Tireless year round efforts go unseen to make sure the small voices in the industry are heard. All the while their forward thinking keeps the little fish like me on track with ceu's and the ever changing rules and regulations.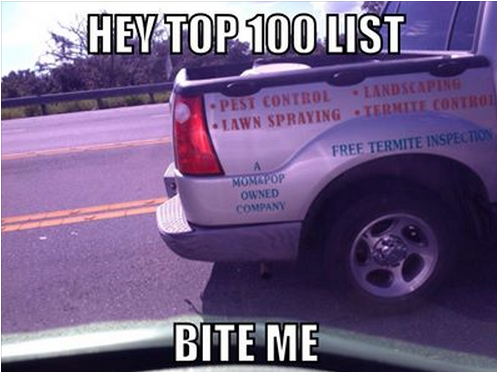 In the end, the features and benefits are worth the whopping $150 bucks alone. (wow-they should've read my price increase article) But what was the original & continues to be the main reason I stay with CPCO. This is one organization that truly cares for the small certified operators and it's kind of nice to finally, be on somebodies list. Somebody who cares!