I know I shouldn't be writing this. Professional exterminators around the country will be upset that I'm sharing this trade secret. For you do it yourself pest control types grab a pen or bookmark this page so you can refer back often.
One tool can separate you from complete pest elimination or total failure and continued pest infestation. This radical device works on any bug. Flying roaches, German roaches, Black Widow spiders, Brown Recluse, Bed Bugs, Termites, Earwigs, Silverfish, in fact any six legged insect and rodents to boot.
Not only effective in treatments, our secret weapon can help you find signs of termite infestation and evidence as small as roach droppings. This light weight easy to use invention can dramatically improve your pest control effort by as much as 90%.
Pest control was not always this easy, in the early days our tool boxes were filled with crude spray cans that didn't offer the pin point accuracy; we used whale and coal oils for numerous pests and brushed on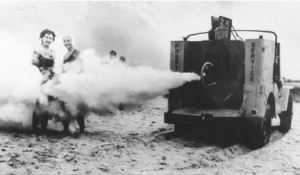 Kerosene to surfaces bugs would walk on. Hydrocyanic acid gas was used for control of insects in homes and Potassium cyanide powder for control of ants. Low pressure liquefied gas propelled aerosols; Chlordane and DDT were the norm. Our spray tanks would bellow out gas or steam mixed with chemicals and we had little control of directing the spray. We didn't even have yellow light bulbs until 1931 but we were making strides in the right direction.
Still in search of that perfect tool that would provide for the all needed protection:
As time marched on and products became better and better our advances against the world's pests began to take hold. Now our arsenal includes products that are so specific in nature that entire colonies of termites can be wiped out using mere ounces of liquid termiticide and even less of the bait formulation. The spray rigs we have can mix products so thoroughly and apply foams, showers, mists or 35 foot high streams into the tree tops. The hand held equipment can deliver just the right amounts to specific locations with little or no waste. Our baits and granules are far superior to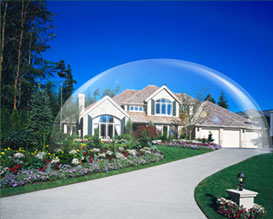 anything ever developed and can actually hinder specific functions of an insect and be harmless to man and the environment. Integrated growth regulators stifle even the most stubborn flea or roach problems and pheromone scent can attract a flying grain moth from one side of a 2 acre warehouse to a little glue trap that is no bigger than a greeting card. With these new and advanced weapons our world is safer and our environment has never been in better hands. Still with all these miracles of modern science these devices simply don't measure up to our one trade secret that only the true pros ever seem to use.
Our little beauty was invented back in 1896 but it was hardly useable for pest control needs. It would only work for a few seconds at a time and was unreliable. Bug men of the day were unimpressed. It took years of development and thousands of trial and error work had to be done and it went through many different shapes and sizes. In the early 1900's great strides were made and a now famous company was born for about $200.00. "DayLo" as it was known began manufacturing and upgrading our instrument and it was catching on. By the 60's the first plastic molded versions were available and in the 70's came the waterproof model. The range was getting longer and length of use was measured in hours instead of seconds. Today there are so many different types and applications that any pest control technician who doesn't use one in his everyday job should look for another line of work. This well guarded secret is simply that good.
What is it you ask? What is this tool that is so superior to all the great chemical and equipment advance of the modern era? At the risk of my professional career and the out casting by my peers; you know it simply as the flashlight.