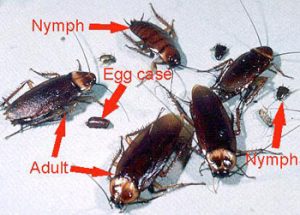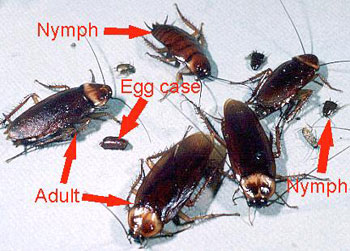 What do all these roaches have in common? There are German roaches, Palmetto, Wood roaches, Surinam roach, Cuban roach, Oriental roach, American roach, Brown Banded roach, Asian roach, American roach, Australian roach and a termite. (Ok a termite is not a roach but he has this same commonality)
They all grow via 'gradual' metamorphosis meaning as nymphs they resemble the adult but what I'm getting at is they all are at one time or another white in color.
We're all familiar with the ugly caterpillar story where nobody likes him and he's not very attractive.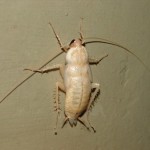 He plods along in life inching his way around being ridiculed and then one day spins a cocoon. (Presumably to escape his tormentors) Time goes by and everyone forgets about the ugly caterpillar when one day the cocoon opens and he emerges as this beautiful butterfly. That is what is called a 'complete' metamorphosis where the young or larva stage looks nothing like the adults. In almost all insects who develop with complete metamorphosis the larva not only look different but they eat different foods, may only walk but then emerge as a flyer, are attracted to different scents or light situations, go from predator to passive and may be changed from nocturnal to active in the day or any combination of the above. Our little roach friends however start out and end up with much the same traits they were born with.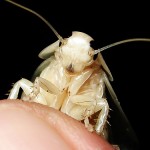 There is a stage however that most people don't get to see, it's the time of molting where the roach has grown too big for his exoskeleton. Think of insects as having their bones on the outside of their body and when they outgrow them the exterior shell spits open and the larger sized roach emerges. During this time a roach is perfectly white with the exception of his eyes.
The reason you don't see this very often is that they are pretty vulnerable at this time so they may recede deeper into your walls or cabinets for safety while this process takes place. Often thought of as an albino roach people will scoop this little critter up in a jar and want to show others. A couple of hours later they meet up with their friend and present to them the white roach who is now completely brown or black.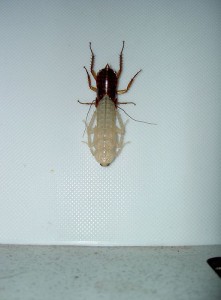 Just like the butterfly who emerges from her cocoon and sits quietly on a twig moving his wings up and down to get the 'blood' circulating and the wings dried and ready for flight, the roach will spend a few hours in the dark as his body fluids fill this new larger exoskeleton and part of the process is the 'color' being pumped into what was once a silky white shell.
I first learned this lesson years ago while training on a bad German roach job with my service manager. We had roaches dropping from the ceiling and pouring out of every crack and crevice there was. When out from a crack came a 'white' roach, I became so excited and exclaimed that I had found an albino roach. I was so sure that I would get a raise and be recognized for finding this rare fluke of nature in only my first few days on the job. Instead my manager put me back on book duty for the next couple of days figuring I needed to do some more reading.
It's kind of rare that the homeowner will ever see this stage of a roach's life being that they tend to hide deeper in their environment until the process is complete but we do get calls from time to time. Callers ask if there is a new bug that's invaded the town and they almost always seem disappointed when we explain what they've seen. I guess they would rather have some new exotic pest in their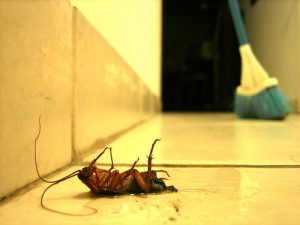 homes than just a plain old roach. Most parents that have called also ask if there is some way they can preserve the white color until the kids get home from school. "Short of putting it in the freezer, I guess you could always step on it" we reply but that's usually followed with silent disgust and an awkward moment. We're great at killing bugs but perhaps humor is not one of our long suits.
While no one I know is happy with any roach found in their home, they almost always make the exception and go out of their way to catch the 'illusive white roach' alive and well. When they find out it's only a temporary color then your guess is as good as mine what they do to the poor insect who was only trying to grow.