Some people will go to almost any lengths to rid themselves of unwanted bugs. Whole gallons of 'Do It Yourself' killer liquids are applied to every surface of the home while entire aerosol cans are used to lay to waste a tiny wasp nest or lone spider. It seems that more is not enough and little regard is taken as long as the end result is a patio full of twitching ants or a barrier so thick that the homeowner is satisfied their bug shield is impenetrable from future attacks.
In my line of work I see all sorts of dangerous and sloppy applications like this but once the slippery goo dries it's kind of a case of 'out of sight, out of mind.' This is not really a good thing because most homeowners have absolutely zero faith in residual barriers so when they see another bug they go back to what they know and break out the arsenal once again even if it's only a few hours later.

For many Diy'ers, they need to see their barrier to feel like it's working and compensate for the invisible sprays. To do this they'll add another element to the mix which perhaps gives them this visible comfort. Pest control granules are their chemical of choice and for these people the same rules apply;
How Granules Work
Granules are meant to be applied outdoors either around a structure to help ward crawling insects away or perhaps on an area where ant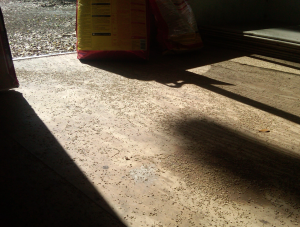 mounds, fleas, chinch bugs or other pests are present or not wanted. The barrier needn't be real thick in most cases and in fact barely visible is best. The 'granule' can be sand, corn cob bits or some other suitable matrix. This carrier is soaked or laced with the chosen product and in most cases water is needed to release the pesticide. When the granules are spread out evenly over an area it creates a pesticide 'mine field' of sorts and insects may be repelled by it or crawl through it. When contact is made they pick up the chemicals on their bodies and die soon thereafter. Granule barriers often last longer outside more than any other barrier. Long after liquids are degraded by sunlight, rain or other factors, granules will still be active. Once applied in a proper manner granules are a very low risk barrier to humans or pets.
The Thicker The Better?
Still, I see thick barriers around homes or on lawns all the time. One foot wide and 1/2 thick matted down and stuck together sheets of granule barriers are not uncommon. Fire ants are troublesome in my area and at times the mounds look like a terribly made cake smothered in thick brown insect granules. Even the poor pyramid or pavement ant gets the royal dumping with there entries barricaded in small piles of the dry chemical. While you might think this approach would kill everything in its zone you'd be surprised to know it rarely does when put down so thick. Sure this heavy barrier will kill those bugs that for whatever reason stay around but for the most part insects detect the over application of chemical and simply find their way around it. Life goes on for the bug and over time when the pesticide is gone but the carrier is still thick as ever the homeowner has a false sense of security that their barrier is still in effect.
The Worst Application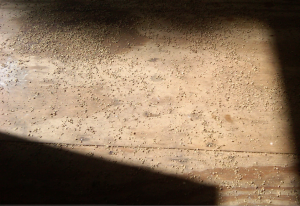 By far the worst use of granules is when they are placed indoors. I've seen them in carpets for flea and ant control, on counter tops for roaches and in couches and mattresses for bed bugs. There is no indoor use that I'm aware of listed on the label and if there was, I can think of a hundred better ways to tackle indoor pest problems without them. When placed in situations like this not only do you come in direct contact with the granule and perhaps absorb it through your skin. You also stir up the carrier, crush it under your feet, vacuuming. etc. and the dry particles take to the air where you and your family breathe it in. Not Good.
I guess to most folks granules are viewed a lot like moth balls. They aren't seen as those dangerous liquids and perhaps because they are dry they are for some reason safer. Maybe this error in thinking convinces people that heavy doses pose very little risk so they lay it down thicker to save time and avoid having to repeat the task somewhere down the road. For whatever reason I find these thick applications quite a bit but I hope with a little education we can steer people in the right direction. With the amount I see some people put em down we won't need to many more like them till one day the whole world will be covered in granules.