Like any good writer I like to research my topic and also draw on things I've seen at clients homes over the years. But since no home is immune to pests, sometimes my research is right there in my own kitchen which drives my wife crazy.
Click on the pictures to enlarge;

This little episode started because my son the ace pilot brought his brand new Blackberry phone in the bathroom while he was showering. Between the steam in the air and his texting with wet hands when he got out, his phone went a little wiggy. I'm not sure if he found this cure on line or knew it all along but he put his phone in a bowl and proceeded to pour rice all over it. He said the rice grains would draw out any moisture and so we left it on the counter. That's when problem #2 appeared as little tiny grain beetles began emerging up and down in between the grains. Now we just went through a major bout with these things about 2 months ago with sawtooth grain beetles that had infested almost all of our flour products we had. I was working when I got the call and of course my beautiful wife didn't want to hear that I wanted to take pictures for the web site and by the time I got home everything was thrown away. We had a stray here and there afterwards but nothing dramatic and I believe we threw out one more box of pancake mix and the problem was solved and I didn't even need to spray. Truth be told I can't be 100% sure that it was sawtooth grain beetles because merchant beetles look and act almost exactly like them. Except for the eyes and maybe the shape of the head both require the same actions to get rid of so it's not critical to narrow it down to one or the other like you would have to for other pests; for example like the pharaoh and thief ant, not knowing the difference there can be very frustrating.
Sawtooth grain beetles/ merchant grain beetles
These beetles are pretty easy to identify because of the sawtooth like teeth on either side of their thorax. (the middle part) They are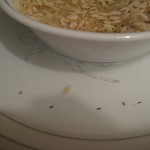 pretty tiny, only 1/10 of an inch but you can see the projections with the naked eye and they are really obvious with a magnifying glass. Both are reddish brown but if you want to tell the difference you'll need that magnifier and want to look at the head. If the eyes are exposed you are looking at a sawtooth, if the eyes are somewhat protected by a tiny knob that's a merchant. Also the merchants head shape is more triangular but that's kind of hard to tell if you don't have them side by side. The other difference is the merchant beetle flies while the sawtooth does not. The best reason to at least try to correctly identify what you have is so you can start your search for the source according to what each prefers.
Sawtooth prefer: cereal based products.
Merchants prefer: nuts, seed and dried fruit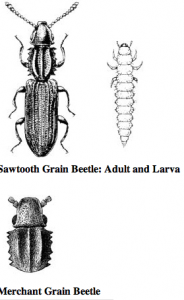 Control measures
Spraying in or around food products is never a good idea and for these beetles it may not do you much good anyway. The beetles lay their eggs singularly in the food and so by the time they emerge from the box or bag your spray might kill the adult who was going to die anyway but did nothing for the 300 eggs left behind. Additionally, the life cycle is completed right there in the food and the undeveloped beetle won't come out for 35 to 51 days depending on which beetle it is. The very best solution is to use a flashlight and start searching the cabinets. Start opening packages up one by one regardless if it's new and never been opened. When you find adult beetles or see the small white to yellowish larva crawling around throw that box away. They tend to burrow when disturbed so if you see even just one the whole box needs to go. Like I said the life cycle can be some 50 days later so if you notice some more in just about 2 months you'll need to repeat the process until the sightings stop. (that's what happened to me)
What happened to the cell phone?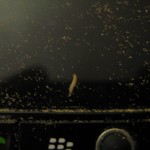 I'm glad to report that the rice worked as advertised. It only took an hour or two and the beetle infested rice dried out all the moisture and my son is free to text once again and even update his Facebook & Twitter page. One other quick tip- in order to do this little experiment without my wife getting too mad, I placed the bowl of rice on a plate full of water which made sort of a moat. The beetles were all over the bowl but if they fell or tried to crawl out they were trapped in the water and couldn't run around my counter looking for any other place to maybe lay some eggs. You can see one of the larva we found in the pic of my sons phone after we pulled it out.