Pulling into the brick driveway so beautifully outlined with mature green hedges and flowers at their feet it's hard to imagine that just seconds ago I was on one of the busiest streets in Baltimore. I'm sure the builder didn't envision this stately structure would have much more traffic than the occasional chauffeur driven Rolls Royce or even a fine horse drawn carriage but fast forward 60 or more years and the passing roar of cars and trucks was now all day and night. While many cities and towns have defined lines where neighborhoods change and homes take on the look of their surroundings, this street was caught in the middle of what use to be and what couldn't be stopped from coming. These homes are still so beautiful with old growth trees, grand architecture and hidden gardens tucked away on their 1/2 acre plots while just a mere 2 blocks away is a all night 'cash and dash' and one of the busiest places of the city.
Such was one street on my first route and I serviced several of these old glorious homes and always came away with a sense of sadness each time they came up for service. The people were for the most part the original families and no doubt helplessly watched as their beautiful homes were swallowed up in progress. This is the story of one of those customers who lived on this street and although somewhat unique, it was much the same for all of my clients who lived on this once elegant and prestigious thoroughfare. With only memories of days gone bye when they were once the envy of the surrounding world- they quietly watched the busy world swallow them up from the lonely but beautiful windows in their hollow mansions on 39th.

I don't remember what the original service call was for but there I was standing in the foyer of a large and impressive home. Greeted by a majestic stair case that wrapped around the homes entrance with a huge chandelier suspended from a very high ceiling. The wood work of the hand rails and balusters was obviously hand made with actual scenes and faces painstakingly carved into every corner or knob. The deep dark brown color of the high paneled walls spoke of royalty and privilege. A grand piano sat quietly in a huge family room and built in shelves packed with books and small collectibles from around the world filled the awe-inspiring room. The detail in craftsmanship was everywhere and even the old steam heat registers looked as if they were hand crafted from solid gold. There didn't seem to be a lot of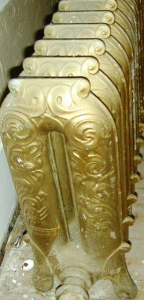 furniture but what was there was top of the line and looked very expensive. I was summoned to the summer porch where I was met by the owner of the house.
The bright and cheery lanai was no less beautiful and was by the looks of things the place where this lady spent most of her time. The windows vaulted up to the ceiling and the view of a beautiful rose garden and small pond made you forget you were in the middle of the city. She introduced herself as 'Dr. Muriez' and I was a bit taken aback. A gray haired small unassuming lady with glasses perched on the end of her nose, she spoke very broken english and at first look you might guess her to be the housekeeper- not some Doctor and certainly not the owner of such a magnificent estate who was obviously a world traveler. She cleared a pile of newspapers and cut coupons off of a patio chair and we sat down to discuss my treatment plan. She was leery of pesticides and I guess wanted to check me out. Her questions were well thought out but reasonable and I think I must have satisfied her because soon we were off and running with her treatment. She led the way.
The first floor was indeed a thing to behold, each room more gorgeous than the next and fit for any king. The good Dr. accompanied me throughout holding the door as if she were a tour guide and telling me the many stories behind the many paintings and decor. Statues from Africa, artifacts from Egypt, books from around the world- the home was definitely filled with a history and at least at one time this home was filled with life. Nothing was overdone mind you, but it was obvious she had been the only occupant for quite a long time. Although grande-there was the inescapable feeling of emptiness that no amount of past glory could erase.
Our conversation flowed somewhat as her broken vocabulary allowed. I remember her keen interest in my service and she was thankful of how attentive and careful I was. She was amazed that she had to sign a years long contract for what she thought was a simple problem. But if she had to have 12 treatments it was obvious she was going to make the most of them and she watched to make sure I obliged. I don't recall even seeing a bug but being a rookie I wasn't aware there was anything but monthly service. It seemed like time flew by as she was very interesting and I felt she was happy with me as well. The mood noticeably changed however as we made our way around the silent piano into the foyer and came face to face with the impressive staircase. The highly polished finish gleamed in the foyers dim light but it was clear these stairs had not been used in a very long time-at least not in any joyful or meaningful way.
Coming to the stairs the Dr. paused for a moment as if to gain her composure. She complimented me on my service and said she was surprised I was so new on the job. We slowly made our way up the elegant staircase which led up to a very long hallway with many doors on either side. Dr. Muriez opened each one but this time there wasn't any announcement of the rooms use or stories of days gone bye. The rooms were darkened except for a few beams of sunlight that pierced through the old and worn curtains. For the most part the once lived in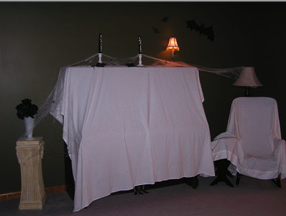 spaces were empty but what was left inside was for years untouched and covered in white sheets that were gray from dust. I felt like I was in some sort of memorial and I was the first one in any of these rooms for over 30 years. No pictures on the walls, no trinkets from exotic world travels and no stories from the Dr. I was so curious to ask about its obvious demise but knew this was one subject I should not approach. Yet for all that wasn't there the walls spoke volumes and what they described was a sad, lonely and perhaps a tragic past. Just as unthinkable that this magnificent home could be nestled inside such a chaotic part of the city, it was just as unimaginable that the 2nd and 3rd floors were so dark and lifeless above the grande living area below.
To be continued; Please read part II by following this link