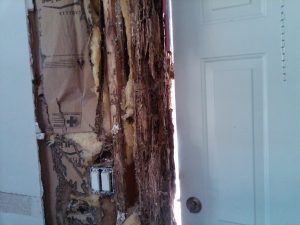 Over the years I've uncovered a lot of hidden termite damage in my WDO (wood destroying organism) inspections for home buyers and banks. Some has been very obvious and the checkbook is already on the kitchen counter, open and just waiting for a number. Most times however, it's no more than a pin hole's worth of evidence that the owners walked by everyday for years. Emotions run the full gambit with these reveals. Disbelief is the first emotion followed by anger (sometimes vicious) when they learn that little speck is keeping them from buying or selling what to them, may be their largest investment. Other times severe depression or sadness, always fear and doubt but what never fails– Their eyes go wide and their jaws drop when that tiny speck of mud I discovered turns into a huge chunk of the wall thats been destroyed by termites & the only thing that was holding it up may have been the drywall that just was removed. Such was the case with the pic above.
For a termite inspector, this is just part of the job, finding that evidence no matter how small and reporting it so that those who hired us can make an informed, educated decision on what is also to them, a HUGE investment.
Unfortunately, there are also times when termite evidence is hidden, but, not by the mere biology and behavior of the termite- but hidden, concealed on purpose, by the homeowner.


I'm not sure what the exact laws are for hiding termite evidence but I'd say pretty stiff. Seems to me that it would be pretty hard to prove regardless. Homeowners could simply plead ignorance that they had no idea what they were covering up. With the nature of termites, this could often be the case and, in fact there are times when this happens. However there are a lot of times, I know………………
It's deliberate.
The most popular way of covering termite evidence I've noted has been simply with paint. #1, it's the quickest and easiest way to do this, besides most likely the cheapest. But #2, most termite evidence is so small that a simple stroke of the paint brush can completely hide the evidence from untrained eyes. Despite the title of this article I strongly urge anyone knowingly trying to cover up termites…not to. You may fool the people & realtors who breeze through the house…but you most likely won't get away with it when the professional walks through the door.
The following pics are examples where I've found painted termite evidence.