Thousand leggers as they are sometimes called are basically a harmless bug but can invade homes by the hundreds if not thousands causing otherwise sane people to become panicked. I've seen basement floors and walls covered with them as more kept oozing from the drop ceiling and landing with a thud as they fell. As they die it can sound like you're walking on a million crackers with hiking boots. Yards can sometimes come alive with their wave like movements and the sides of homes look like a scene in a Alfred Hitchcock movie.
What causes this mass invasion?
Believe it or not, millipedes live quite a long time for a bug.(some reports say 10 years) The build up you seldom see may take 3 or 4 years to manifest itself into the full blown exodus and many times the solution is right there in your own back yard. The millipede thrives in very moist conditions such as compost heaps, under wooden sheds or woodpiles. Thick leaf litter or anything else that provides moisture will be sure to attract the millipede. Although they are slow movers they are quite adept at digging and will burrow down for wet soil and also to spend the winter.
What usually triggers a mass invasion of the millipede is a change in the moisture levels. The weather may turn hot and dry or perhaps you finally get to that raking chore your wife has been on you about. The leaves that once held moisture are gone and the millipede has now got to move to find suitable wet living conditions. Another possibility is that the 'pressure' or population is so great that they simply must move to find food.
Millipedes are a great recycler in nature and eat decaying organic matter mixed with soil. They do not bite, hunt or sting and besides, the kids love them. Females lay as little as 20 eggs or as much as 300 in their lifetime so it is not a matter of a prolific insect so much as it is a long lived one.
What can I do to stop them?
I'm sure if you experience a mass invasion in your home you will see live millipedes but the majority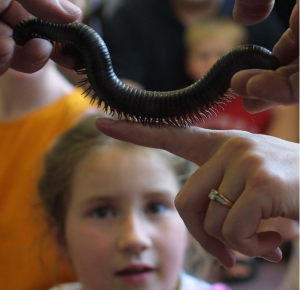 will be dead or dying soon because of the dryer conditions inside. They cannot thrive indoors and won't lay 1000's of eggs so try not to panic. A vacuum cleaner with a hose attachment will be the most effective inside tool but if you would feel better you could apply a residual spray and dust any entry points. The exterior is where your pest control efforts will serve you best and a 15 to 20 foot barrier around the home should help out. Granules such as Talstar Pl will work or if you have the means to spray such as a hose end sprayer, you could use liquid Talstar as well.
These methods will only be a temporary fix so to get to the heart of the problem you will want to hunt down the source. Any moist place such as mentioned above should be looked at. Many times it won't be on your property so you will be left with few options. One theory is to create a moist place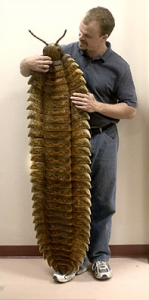 in your yard which they may settle into. (which is better than your house) By watering the yard 20 feet or so away from the home you may get them to slow down. The idea then would be to treat that area to stop the invasion. (just a theory-I've never tried it)
If it seems hopeless and the problem seems too big take heart. The mass movements hardly ever last long. It depends of course on the size of the population and time of year but it usually clears up in a couple of weeks at most. Too long for most I realize but if you try some of these tips you should be able to reduce it down significantly. It may take a few years for the population to get large enough before the plague can strike again but if you start to notice some of the signs perhaps you can jump on it earlier and get better results.