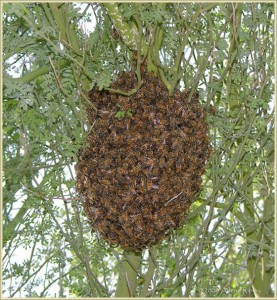 In Santa Ana California a huge 'ball' of bees was discovered in a tree. Although the bees seemed not to care about the gawkers the fire dept. was called in to assess the situation. The 'ball' of bees was later moved to eliminate any possible problems with folks getting stung.
Almost every year bees exhibit this kind of behavior. It's called 'budding'. It's one way in which large colonies can perpetuate the species. From the colony a new queen bee is determined and she takes flight. Sometimes 1/2 or more of the workers will follow, (oh and one lucky male get's to go too) if she lands to rest they land as well surrounding and protecting her. This landing can occur almost anywhere, mailboxes, window ledges, car windshields, etc. The call to the exterminator is the next thing that usually happens. A seasoned pest control person will usually advise you to let it alone for the day and by tomorrow it'll be gone. 99 % of the time they are right. The queen was probably just tired from her exodus and needed a break. If perhaps where she's landed is suitable for a nest she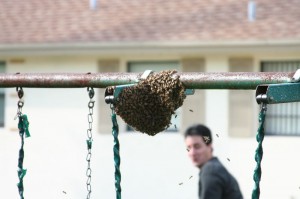 may just stay and the work begins on hive construction. At that point if you feel you are in danger by the location of the nest throw out all do it yourself pest control ideas and call in a pro. Bee keepers will usually come out for FREE and remove the colony. Then they'll relocate it to where they can utilize the honey making critters and everybody's happy. Our bees are in serious decine right now anyway so why not call in someone who can do us all a favor.
So if you see 'budding' bees in the future don't reach for the spray, rather just grab your camera and get a picture because chances are you won't see it tomorrow.