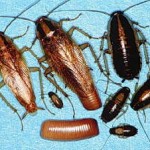 German Roaches are among mans most filthy and disgusting pest he has to deal with. It's no wonder that in Germany they call them 'Prussian Roaches'. I wouldn't want them named after me either.
Getting rid of roaches is not an easy task. They've been around for 350 million years, are incredibly resilient, and the german roach if left alone can pair up and have as many as 60,000 offspring in 1 year. A roach can live up to a month without food but without water will die in 4 or 5 days. They prefer darkened areas and feel most comfortable in small cracks or crevices as thin as a dime. Their antennae are very keen at detecting differences in air pressure and pesticides. It's your 'air pressure' created when entering a room that sends a roach scurrying rather than flipping on the light switch. And it's the tiny micro dots of pesticide they detect on your counter-top from your recent spraying they avoid that makes killing them so difficult. German roach control is perhaps the most difficult even for the professional exterminator.
Control is aided greatly with sanitation. A truly professional 'bugman' will swallow his fear of hurting your feelings and 'diplomatically' tell you to 'clean up your act.' So I will do the same here. German roaches are so adept at living on the smallest crumbs or drops of water found under your sink or over flowing trash cans. If your home is less than tidy and you have the dreaded german roach, you have to clean up and keep it clean until the pest is eliminated at least.
OK, clean up is over now it's time to treat. Start with a bright flashlight and some knee pads if you got em. Open drawers–no scratch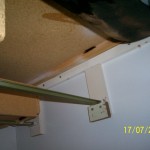 that. Remove the drawers in the kitchen and get your head up in there. It's a whole other world filled with ledges, bridges, voids, cracks and crevices. It's much like a hidden condominium complex under the area you cook and clean on everyday. You may not see the actual roaches but tell-tale signs are their fecal matter that dots up the surface usually near their nest or resting spots. You may also see their antenna waving out over the edge of the crack or void they're in. They see you now too! Next check your appliances much the same way. Pull the refrigerator out look in the motor areas, look at the electrical sockets, the microwave clock window, behind pictures or decorative wall hangings. Back splashes along the counter tops and the ever popular butcher block knife holder are just a few places that are common for these roaches.
Ok now how to treat. Sprays and baits used together can be quite effective but sprays applied on top of or over bait placements is a waste of time and money and NO control is the usual result. Why, because you've just contaminated your bait and the roaches will avoid both at this point. First apply your sprays. There are many on the market but if you can find one that has 'Gentrol' in it or buy it separately and add it in that is best. Gentrol is an IGR which is a growth regulator or 'birth control'. This will prevent the roaches affected from reproducing. Choose areas such as baseboard cracks, hard to reach areas under the cabinets to spray or areas where visible bait would not be advisable. Check the label for areas approved for the product you've chosen. At this point you might want to reach for the aerosol which is ok to kill the runners. Just be careful to aim careful and not hit the bait placement spots you've picked out.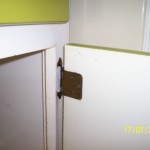 Baits now are applied to areas such as cabinet hinges, ( a favorite spot for roaches ) areas under the sink and drawers you didn't spray, on the edges of any electrical sockets that showed signs, the back of the fridge, the sides of the pulled out drawers, the guide rail they move on, microwave backing and frame work and the bottoms or framework of other appliances. The label of the baits you choose will also help determine areas of use, also there are many types of baits in many different formulations.( dry flowable, pre-packaged, gel syringe and liquids. Take time to read and compare and it wouldn't hurt to have one or two different kinds. Results will vary so be prepared to retreat in a couple weeks all the while maintaining good sanitation.
 Happy Hunting!