Buying a foreclosed home has always been a bit on the risky side and is not something that should ever be attempted without at least some professional help. These homes are generally left in disrepair and there may be no telling what truly needs to be fixed. Everything from the roof to the septic should be looked at because the banks almost always sell these homes as is and you cannot go back and claim non disclosure for unseen problems.
Termite inspections are essential when buying a bank owned home and just because you've read this article or you might know a little about termites and what to look for don't be fooled. There are some hard luck stories but most of these homes were neglected when the occupant lived there and such things as wood rot and termite infestations were left unchecked and festering for long periods of time. Those conditions only get worse when the home is sitting empty sometimes for years. In some cases the damage is real obvious and leaves little to the imagination, other times there may only be the tiniest visible evidence but in either case my advice is to hire a pro.

Up until recently a banks 'to do list' included a pest inspection because it is illegal to sell a home with live termites. In the interest of speedier transactions with the most recent housing boom however, (man that seems like forever ago now) Hud officials
issued a letter to lending institutions allowing them to forego certain steps such as pest inspections unless it was customary and or routine in their specific area. The banks took this as 'one less hurdle' and stopped requiring the service and indeed homes were selling right off the courthouse steps. This led to a whole lot of homes going to their new owners termites and all. Most who discovered the problems had to pay for treatments but some more unscrupulous people simply covered up the infestation and passed it along to the unwary buyers. Fortunately more and more banks are reverting back to the original standards of the 40 year old mandate but many homes are being chewed on as we speak by termites that could have been discovered during the foreclosure process.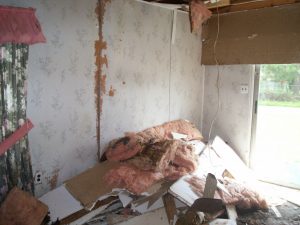 As a termite inspector I enjoy the challenge of inspections and repo homes offer the most by far. At times I feel sorry for the evicted family because it looks like they got kicked out just the night before. Clothes are still in the closet, rotting food in pans on the stove and their stuff is just all over the place. It amazes me that people could live this way and it's in these homes that I almost always find termites, rats, mice, roaches and ants. Lately however I have been doing a ton of brand new, never been lived in homes where apparently the builder was caught in the downturn and lost the home before it could ever be sold. Guess what, I still find termites, rats, mice, roaches etc. and that just underscores the need for a professional inspection if you are in the market for a repossessed house.
Almost everybody who's considering a bank owned home for purchase knows they may need to do some repairs, that's almost a given. But the prices are usually good and if they can find one that needs very little the chance for a good return on investment or a nice place in which to live in at a cheaper rate, all the better. Just be careful and get the proper inspections by those who know their craft best which includes termites. Just because you may not be able to go back to a bank and use 'non disclosure' to address termite issues, the new home buyer you sold to, can.