In my business I'm always looking for a product, technique or pests habit that I can use to give my customers instant relief from their bug problems. Sometimes pest problems can be so huge and seem insurmountable that you just got to chop it down at its knees. While there are a ton of great materials out there and I'm a big believer in the magic of time, it's hardly any comfort for the person who is infested with ants or fleas to tell them they need to give it 14 days to work. This is especially true with pests that bite or sting and here in the south fire ants deliver a nasty wallop and fleas can be relentless.

One product I use quite a bit for not only fleas and ticks, which it is most notably known and used for is Precor 2000 Plus premise spray. This handy tool is also good for ants and roaches and can give my client that fast knock down in a way that other products may fall short. Packed with two adulticides Phenothrin and Permethrin this insecticide provides a very fast kill for any of the bugs listed on it's label. The IGR (integrated growth regulator) Methroprene cuts the life cycle of fleas which is key to quick control since 80% of any infestation is in the pre adult life stages. It also lasts up to 7 months which cuts back on time consuming and unnecessary re-sprays but here is where the magic of time may come into play when you have occasional flair ups.
Another big plus is places you can use this handy product. I hate buying something only to read later on that I can only use it in such a
limited scope. With 2000 plus I can put this barrier down in a variety of situations and not worry about Bobby the bird or exposing children at schools to harmful residuals.
FOR USE IN HOSPITALS, HOTELS, MOTELS, OFFICES,
S C H O O L S , S U P E R M A R K E T S , T R A N S P O R TAT I O N
EQUIPMENT (BUSES, BOATS, SHIPS, TRAINS, TRUCKS),
WAREHOUSES, UTILITIES, VETERINARY CLINICS AND
OTHER COMMERCIAL AND INDUSTRIAL BUILDINGS
Ok, that's a quick run down of some of the benefits but here is the one downfall that I find with this otherwise great product. The delivery of the spray comes by holding the can upside down which isn't normal considering how you'd use a can of Raid or the like. The problem is that no matter how careful you are you'll always end up with some spray on your finger tip. Now I like so many pest professionals, wash my hands after each and every service but it may be that you'll need to dispense this spray during the middle of your job and maybe more than once. You can't very well wash up 3 or 4 times with every service so on you go dusting, baiting or filling out your service ticket and completing your job. All the while you have nice tiny oil slick on your index finger and should you scratch your nose or rub your eyes you'll be spreading this insecticide to places you don't want it. The answer is of course a latex glove but I know that is such a hassle for most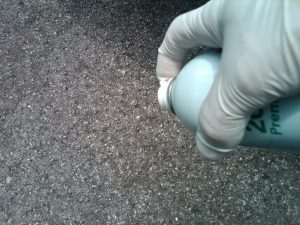 techs and it sometimes causes concern for a customer who sees you dawning protective gear. One trick you can do to solve both dilemmas is to simply cut the finger tips off a glove and keep them in a service pouch. It's hardly noticeable and one glove can give you 5 protective coverings. I buy my gloves in boxes of 100 or more so while it's not the best use of a glove it's not that expensive either. In any case it's far better to have the Phenothrin and Permethrin on the latex than it is to have it on your skin.