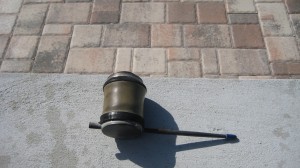 I love it when I see pest techs dusting for pest control. I love it even more when I see a professional tech who's doing the dusting. Dusting has so many positive aspects; Long term residuals, huge voids can be covered with a light puff, homeowners and non target beings are in no danger of exposure AND most importantly, it's what separates the professional exterminator from the DIY home body who just plows powders willy nilly across the home and makes a dangerous mess. (long sentence-sorry)

I dust in almost every account I do. Whether inside or out it's hard to beat all the benefits that this technique can give you. Sadly, I often follow behind not only dust happy homeowners but pco's as well who too often leave a trail of the white powder. It doesn't have to always be that way.
I have several articles and videos on this subject and I invite you to check em out.
http://pestcemetery.com/kill-bugs-dusts/
http://pestcemetery.com/dusting-tips/
http://pestcemetery.com/lost-art-dusting/
http://pestcemetery.com/bug-doctor-minute-voids-avoid-dusting/
http://pestcemetery.com/bugs-deckexterior-pest-control-dusts/
http://pestcemetery.com/extend-dustersize-matter/
http://pestcemetery.com/product-review-boric-acid/
BTW–I'd love some feed back on those and even some 'likes' and 'shares' if you think it's worth some of your colleagues time to also see them. This latest video is not about dusting techniques per se but about an inherent or built in problem with the most common dusting tool. The Cap!
So please check out this video and add your commentary below.