For years I've bought and used silverfish paks almost on a daily basis. Now I've been around for awhile and I think I'm a pretty good judge of what works and what doesn't. I see a lot of silverfish damage to storage in attics, fecal matter under the insulation and even some dead ones on a glue board from time to time but one thing I rarely see is any signs of eating on the silverfish paks made just for them.

Is it just me or am I placing these things wrong? Is there a flavor out there I haven't heard of? This all came to light just the other day while I was inspecting a home for termites that was serviced by someone else. Sure enough I found the alleged silverfish paks in all the favorite spots and just like mine they had no familiar nibbling or chew marks but unlike mine there were dead silverfish right next to these small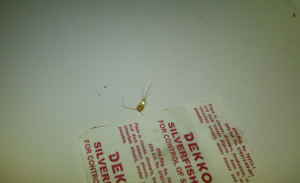 little cards of death.
Now, am I just not doing it right and need a course in silverfish deathology (new word alert) or is this guy just really lucky and these bristle tails just ended up dead real close to his choice of placement? I of course have my theory but being the humble blogger and ever learning pest control technician that I am, I'll leave the answer up to you. Please be kind and leave your thoughts in the comment section below–Apparently, I could use the help. 🙂