This article is a continuation of part 1 and the whole thing got started when one of my techs was stopped in the field. The part I didn't say in the first 1/2 was my employee who is 'Mr. By The Book' had all but one tool box locked–tsk tsk and his PPE's (personal protective equipment) consisted of short pants and shirt and a mask that went over a beard that would make Moses proud. (he's in a church play and the beard is important or so he told me) Anyway Moses, I mean my service man has been spotless for 8 solid years and to this day he's not ever called in sick-not once! He's a great guy and yes truth be told he does wear shorts quite a bit in the summer even though I've let him know that's not up to standards. I suck as a boss? We have yet to get anything from the state in the form of a warning letter or any such thing but if we do I'll let you know with an update. Now I don't want any such trouble but I didn't chastise my guy at all either. It is what it is and he knows what's right and in the end I'm responsible in the states eyes. So I thought I'd put together what I know which may in turn help you in some small way. You can read chapter 1 here. Ps. I'll need pen pals in prison so keep in touch.

How do inspectors handle complaints?
Most times a citizen files a complaint and it's assigned to the inspector in your area. It could be a lawn problem, dead bushes they think you killed but mostly it comes down to theft from a tech or a termite damage complaint on a WDO/WDI inspection. Now, no disrespect to any inspector whose reading this but; generally speaking these fine people are retired and have spent a little to much time at the all you can eat rib joints in town. It's rare that they will get in a crawl space or attic but let me tell you- IF THEY CAN GET TO A SPOT, YOU HAVE NO EXCUSE. This is almost always done without you even knowing they are on the case. They take pictures, fill out forms and write up a report. In a lot of cases the inspector may see that you are at no fault at all and simply files his or her end of the paper work and you may not ever know that you were being looked at.
Zeroing In
As stated in part one, these guys aren't fools and know the ins and outs way better than you may think and once they have a clear violation they will target the company or person in very deliberate ways. I also told you in part one you have rights but these officers have legal authority which they can and will use especially if you are evasive or untruthful. The law is the law and I've yet to see any inspector become vindictive but even minor infractions that perhaps they would've let slide with a warning might come with a stiffer penalty if you don't respect these people in their jobs. I have heard of 'sting operations' where rogue operators have been lured to a home or business thinking they were going to score some work only to be led away in handcuffs or be served with cease and desist orders. Inspectors quite frequently look for suspected rules violators on their dockets at convenience stores or out and about on their daily routes. If they can catch up to them they exercise their right to inspect the vehicle fully while looking for evidence to help bolster the case.
The most common way inspectors 'tap' on your shoulder is to simply call and explain they'll be dropping by at such and such a time and leave no option for you to wiggle for a more convenient time. Missing that appointment is not a good idea.
Why can't they catch more bad guys?
The old saying, "there's never a cop around when you need em" might fit here. Just yesterday I saw a lawn cutting guy with a 25 gallon tank sprayer hooked to his mower. No signs on the truck, not in any company dress but clearly ready to spray a lawn with power equipment which is illegal in my state without a license and he looked like he didn't have a care in the world. This wasn't in a remote rural area as was the case where my employee was stopped but in a busy affluent neighborhood. I watched this guy do 3 lawns (he didn't spray as far as I could tell, just mowed) and then he loaded up his rig on a trailer that was visible to everyone and drove away. We also have a home inspector openly doing business in town as a termite inspector which is clearly a violation, or is it? WDO/WDI inspections are suppose to be tightly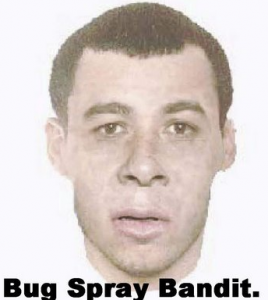 regulated and ONLY certified operators or those who've had training and work directly under a cert holder can do them. This guy has neither and though he's been investigated, inspected and was told to get legal this man continues to inspect your home for things like leaky gutters, roof problems and for an extra $75 bucks he gladly looks for termites. The territory your inspector covers may be quite large but I can't help but think these roaming inspectors have got to at least see these guys on the road. Why they don't bust more people is a mystery to me.
Penalties for non compliance
Every quarter I get a notice of all the people and or companies that have violated the chapter 482 rules of pest control in Florida. This list names names and broadcasts exactly what you have been cited for and the penalty that goes with it. While in times past the penalties were mostly warning letters the switch seems to be on for monetary fines. The violations range from no ID cards on technicians to faulty fumigation procedures but the vast majority is WDO inspection issues with unlicensed operators a close second. Fines range from a couple hundred dollars up to $5000 and quite often that fine comes with a cease and desist order. As I understand it these rules and enforcement guidelines came about as a result of so many rogue operators years ago combing the state picking on the elderly (which we have a lot of) and selling work which would never be performed or was shoddy and unsafe. Although I know something has to be done and a $5000 hit is a big something, it does not seem to be slowing down the outlaw exterminators at this time. Hopefully for me, I won't end up with anything more than a letter telling Moses to come down off the mountain, but I have learned to deal with prison life I was just hoping not to have to go through that again.
Read part 1 now;