There seems a clamor that's building which is now become a low roar. Eugenol oil is peaking the interest of many a consumer for its quick knock down properties of insects, spiders and even weed control. This miracle product is fast becoming the talk of forums and soon to supplant bed bugs as the #1 question on my Ask The Bug Doctor feature of this website. Let's face it, no one ever heard of this product really until a little TV show came around called Billy The Exterminator and now it seems to be all the rage. You can often see the star of the show sprit-zing Eugenol oil from a nondescript bottle and he often explains its virtues. The intranet is filled with references and websites that tout its goodness for the environment because of its natural ingredients. I mean who can argue with cloves mixed with water right? As is so often the case with this or any product there are downfalls or hidden side effects but for some reason very few people wish to speak up when it involves a environmentally safe product. This article deals with the darker side of Eugenol oil and I believe it's something you should consider.

What is it and where is it used?
Eugenol oil is clove oil which is made up of the extract of dried flower buds, leaves and stems of the tree Syzygium aromaticum (Eastern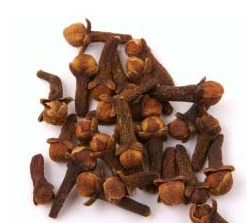 Hemisphere) or Eugenia caryophyllata and Eugenia aromaticum (Western). So far so good. It is listed as a Minimum Risk by the FDA and is used for the purposes of food flavoring, cosmetic, dermal drug delivery, dental, aromatic, soaps detergents and many other well known things. It is considered SAFE by the FDA for everything except fish and humans consuming fish treated with Eugenol. It is also well known for its ability to kill weeds and even bugs. Eugenol is great for breaking down waxy coatings and fast absorption so plants treated dry out quickly and pests with their waxy outer coating also succumb to its effects when sufficient amounts are used. The residual of clove oil is short lived so its non persistent nature makes it ideal for many applications.
What we do know
Clove oil is toxic to human cells, if ingested in sufficient quantity or injected it has been shown to cause life-threatening complications, including Acute Respiratory Distress Syndrome, Fulminant Hepatic (Liver) Failure, and Central Nervous System Depression. The lethal oral dose is 3.75 g per kg body weight and ingestion is the most common way for these severe consequences to occur. Clove oil is toxic to the liver and nervous system and there have been reported cases of acute sickness and deaths with as little ingested as 8 ml. Clove oil is highly cytotoxic to human skin cells at concentrations as low as 0.03 percent. Eugenol is rapidly absorbed and metabolized in the liver when ingested, and 95% of the dose is excreted within 24 hours.
What we don't know
There are very few conclusive studies on the effects of clove oil (Eugenol) but both the FDA and the EPA say that it contains 5–15% methyl eugenol which the US National Toxicology Program (NTP) determined that methyl eugenol is "Reasonably Anticipated to be a Human Carcinogen." This data has been deemed questionable since other studies have not come to this conclusion and as such Eugenol is not required to be listed as a carcinogen. This said, California still requires any product that has 8.5% Eugenol or higher place the signal word "Caution" on the label and a "Keep Out of the Reach of Children"warning as well. Gloves and eye wear requirements are also listed for mixing and use.
OK so does it kill insects?
The insecticidal properties of clove oil has been studied since the 1940s. Clove oil toxicity to different types of insects varies considerably. Very high application rates are needed to effectively control Coleoptera (weevils and beetles), moth caterpillars, lice and cockroaches. Some insects are affected quickly while others seem much more tolerant. Adding plant oils from mustard, coconut, seasame or sunflower seem to enhance the pesticidal properties. (Again no studies) German roaches seem to need the higher doses while American roaches do not, follow up studies found that Eugenol in high enough doses disrupts cell binding of octopamine which results in an insects death.
Conclusion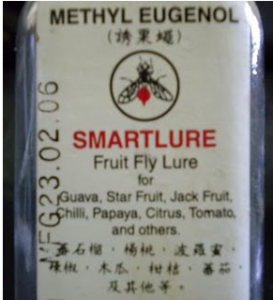 Eugenol is being used more frequently for everything from termites, beetles and even dust mites with water as the most common carrier. Its sudden rise in popularity can be attributed to peoples desire to use 'green earth friendly' products and the desire to be safe and get away from man made chemicals. Hopefully I've given no illusions in this writing, the LD50's (Lethal dose rates) are well within desirable limits and Eugenol is used for many beneficial things. But Eugenol doesn't come with any instructions and about the only conclusive studies of importance are that it takes HIGH DOSES to be effective in pest control and SMALL AMOUNTS to cause possible serious and harmful problems. With the publics propensity to over use things like pesticides and the fact that high doses of something so harmless sounding as clove oil I don't think it'll be long before studies will HAVE to be done not out of curiosity but due to mounting cases of The Darker side of eugenol oil.