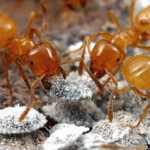 It's not every day I get to see a citronella ant which is odd since I do pest control service for a living. They are more abundant in the north east United States but can be found almost everywhere. Today was a good day however because I found one as I was crawling out from under a home.
At first I thought it may be a wayward honey pot ant because of it's golden almost translucent color but engorged honey pots never leave the nest and since he was rather large I ruled that out. The best way for you (not the ant) to distinguish if an ant is a citronella ant is by crushing it. Do this and you'll know what I mean. Within seconds you'll smell the sweet aroma of citronella.
Citronella ants are basically harmless and only occasionally come inside, usually when swarming. Their colony at it's peak may only have a few thousand individuals and the most damage they do is a mound of dirt near their nest.
Once while I was being 'trained' for a new company, the salesman I was riding with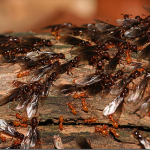 responded to an ant call. When we got there we found many swarming ants in the home and the lady of the house was quite upset. Our sales guy who I'm sure meant no harm identified the ants as carpenter ants and proceeded to sell her a job. I picked up one of the ants and waited for a chance to politely interrupt his pitch. Seeing me holding one of the ants the salesman asked me "why I had one in my hand" while the customer was also nodding inquisitively. I explained about the ant and then crushed it between my fingers and let them both smell. The two looks I got were, relief from the potential client knowing she didn't have to spend $700.00 on a carpenter ant job and a cold angry stare from the salesman who just lost 15% commission.
We don't know a whole lot about the day to day workings of this ant because they feed almost exclusively on the secretions of other subterranean bugs so you don't see them much. These ants will actually bring aphids and mealy bugs below the surface of the soil and 'farm' them much like cattle. The aphids suck on the roots for food and in turn the citronella ant eats the secretions. In warmer weather they may take them up into the foliage. They do eat other things such as sugar and occasionally you may find them inside trailing to the pantry or up on a counter. Before you break out the sprays consider removing the food source as this often cures the problem. It's also believed that the 'lemony' smell is a defense mechanism but I could find nothing to say for sure.

Only about 3/8 of an inch and yellowish to golden in color you can find their nests usually under logs on the ground or under pavement. The excavated dirt makes them easy to spot. Should treatment be necessary you'll need to drench or fan spray the mound area or you can use Terro ant bait which they'll take almost all the time.
Sitting at my computer perhaps thousands of miles from where you are I can feel those same two stares I felt early in my career. The look from the many of you who are relieved and will go out to buy a $ 1.98 Terro jar or simply brush away the few ants on your counter and the many stares of angry salesmen who hope you never read this.