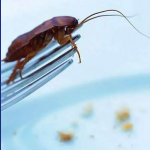 Probably the most difficult place to do pest control in a commercial kitchen is the dishwashing area. The amount of constant moisture alone makes me wonder how it can be effective at all. It's not unusual to have faucets drip all night long filling the sinks that are clogged with debris and then the water cascades down onto the floor. This life giving flow makes it's way to the drains across the tiled floor so with no flooding or damage, plumbing issues are not a top priority. Also a common practice for this area is a complete nightly 'hosing' to wash everything away and out of sight, this includes any pest control you've done. Even if the drips were fixed and the hoses stopped, the H20 is in no short abundance and it makes life sweet and easy for roaches.

Besides water the food supply can be pretty ample as well with scraps that have fallen or dirty dishes left undone. The drains can hold quite a bit of food particles that didn't wash down and build up over time. With racks of dishes and glasses usually stored in tight areas food scraps can go untouched by a broom or mop hidden behind a wheel or under a rack where tired employees may miss them. Most kitchens offer a smorgasbord of food left from the days activities and it's only a short walk in any direction if perhaps the dishwashing area does get cleaned up pretty well.
The other main challenge is the surfaces that make up a dish washing room. Stainless steel, tile or slick vinyl paneling all mean one thing for your liquid efforts-little if any residual. Spraying on these surfaces puts gravity into motion and almost all of your liquids run down the wall and pool on the floors where roaches can easily detect the heavy concentration and avoid the area. If any does somehow manage to stick, the good that it might do is washed away with the water hose later that night or the next if you're lucky.

It is a challenge to say the least to treat the dishwashing area but it can be done. I put together this short but informative video with tips, reminders and perhaps some things that you may not have considered when treating a commercial kitchen. This is the first of a 5 part series so make sure to check back to catch the other videos coming soon. As always I'd be happy to hear from you and some things that you find helpful in kitchen pest control. If I can work it in the video I will or don't forget the tech tip page. A great technician is forever learning and who better to learn from than those who are on the front lines.