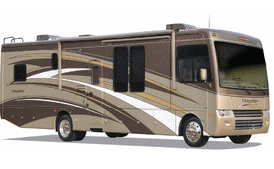 Camping is fun and so many people enjoy the great outdoors and still have all the comforts of home. RV's have come along way over the years and now have satellite TV, elegant furnishings, large comfortable beds and rooms that slide in and out that can instantly create a large living space but are still functional while you are driving.
One problem with camping out that will never change is the encounters with bugs. Not only the mosquitoes and gnats that can plague you as you hike or sit around the campfire but also the ants, roaches, spiders and any number of pests that may try and invade your home on wheels. Let's face it you are going straight into enemy territory and unless you plan ahead you could have your trip ruined by pesky hoards of insects.
We all remember to bring the bug spray for our bodies, containers to keep the food secure and even protective clothing. That can be bit to organize but do we take the time to consider treating the RV?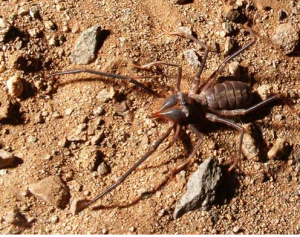 I'm often asked to treat campers for insects but unfortunately only after my customer gets back from a week of fun where they picked up some insect hitchhikers. It could be sugar ants trailing all over the counters or a spider hanging out by the bathroom exhaust fan whose waiting for that huge roach to show himself again. I always find this interesting because it is sometimes a bug that I have never seen before. One such occasion I found a 'Deer Killer' which is a insect from the Arizona region. They are a really scary looking bug and for several months after that discovery I would find smaller Deer Killers in my clients home so they obviously unpacked a few.
How to treat your RV
Your camper or RV is really not to difficult to do pest control on because of it's size and it shouldn't add much of a burden to your check list.
Start with the exterior storage compartments. I would put ant and roach disk bait stations in the back corners out of the way. Maxforce makes these types of baits and they can take a lot of abuse while keeping the bait in tact. Consider mouse bait such as D Con for the compartments that will have hoses or electric lines running out of them. Mice are excellent climbers and may use this as a 'ladder' to gain access. Leave the box closed to avoid spillage. The mouse will easily chew through the cardboard anyway.
Inside you can use the same insect stations in similar compartments and definitely in any pantry where food will be stored. Under the sink is key, both in the kitchen and bath. There may be a void where the pipes go through the base and for that area you may want to use a residual aerosol or light dust. Most newer RV models are well sealed so you may not need to do a lot of void treatments. Another box of D Con mouse bait might be something to consider if you can squeeze it in somewhere safely. Leave it closed for the same reason stated above. It's best to spray liquid insecticides should you decide to before you leave. The residual will last through the trip and I doubt you want to carry a gallon sprayer with you.
The only things you may want to bring along would be a aerosol can of insecticide for that occasional wasp or huge roach and a small baggy of granules that can be resealed once opened. The insect granules are great for a soil barrier to keep bugs from marching up and into the camper. Make sure to sprinkle all around the tires and special attention where any hoses or lines might touch the ground.
This should be more than enough for you to enjoy your camping experience without pesky bugs invading your space. It's difficult to know specifically what you may encounter so don't be dismayed if you have some ants that ignore your bait or you find a Deer Killer sunning himself on your dash board. Besides, you're suppose to be roughing it anyway. Just grab the Raid and give him a shot and then get the remote, put your feet up on the recliner and grab some chips. I hear there's a Bear Grylls survival marathon on TV.