Have you ever seen that show where the lady talks to peoples pets to help solve behavioral problems? It could be that a family Schnauzer suddenly begins uh, depositing his feelings everyday on the couch and nothing the homeowner tries to stop it is working. They build up the problem of course by showing all the great lengths the unwitting pet owners went to trying to solve the problem but to no avail. Then, in comes this rather quirky lady and almost instantly she figures out the dilemma by some strange communication she shares with animals. She finds out that Bentley the Schnauzer is upset because the woman of the house has been feeding a stray cat in the alley and Bentley is jealous. Sound silly? Just watch the show, I'm hardly exaggerating. Now you're thinking just how am I going to tie this into pest control? Well here you go and hopefully at the end you won't think of me as that quirky little bug guy.

I've met some true pest professionals in my time, guys or gals that can walk into a home and within minutes diagnose a problem and simply amaze the owners. Just like the pet whisperer they can tell you things about the home that no one told them but somehow they know and within minutes a treatment plan is formed. Not all technicians can do this especially right away but over time I'd like to think most have this knack too.
At times it's obvious because the place is a mess to the point that even a roach might think twice about moving in but then there are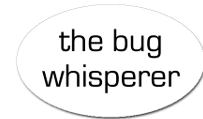 situations where it might take the average pest technician quite some time to figure out what's happening but the bug whisperer gets it within mere moments. Now I don't mean by osmosis or anything but a keen eye, knowledge of the pest and the right questions can lead a true pro right to the answer and it is truly amazing to see. Here are a couple examples of a bug whisperer;
The bug whisperer might walk in on a horrendous flea problem and the people are befuddled how this explosion happened so quickly. Looking around he notice's large oily rub marks on the wall near the door. He asks "Is the dog no longer here?" and the homeowner tells them that their old dog recently passed away and oddly enough that's when the fleas started. The whisperer knows marks like these are usually from old dogs that lay in the same place and as long as he was alive the fleas were happy on him. Now that he's gone they are still hungry and biting people and now we know how this all happened.
The whisperer enters a home with reports of fire ants biting people in their bedroom while they sleep. They keep no food in the room and cannot figure out what they're after. He politely asks where they keep their dirty laundry or if they rehang clothes, especially dress clothes? In the bedroom they find a pile of clothes near the bed and shirts that have the smell of cologne. Shirts worn to church but aren't soiled get hung back up and he finds the ants in both places. He then tells them fire ants are attracted to the odor and there is usually a mound near by and probably just outside this foundation wall and coming in via a crack or cable line. Yes on all counts and the problem is solved.
These are just two incidences of the many I could write and it's always amazing to see the look of astonishment on the clients faces when a true professional walks in and diagnoses the problem to a tee in this way. Now the analogy of the bug whisperer isn't perfect but my point is that with time and experience every good tech should be able to do this to some degree. We all look for certain clues or listen for tiny
details that lead us right to the source on many different pests or situations. I'd love to hear some other examples that I know other professionals have seen or use. Learning from experience is the best teacher they say but learning from others has got to be a close second. If you've got a minute write down your whispering moments or insight in the comment section below. Anything that always leads you to a quick and decisive answer on certain pests and you think the rest of us could learn from. If nothing else you'll make me feel better cause Lord knows I don't want to be the only quirky pest control guy out there.