The earwig has gotten by far the most questions and comments on pestcemetery.com but not far behind is the roach and the millipede. Recently I posted this question on www.sodahead.com and got some interesting results. Voice your opinion and let us know here or on soda head what it is that would freak you out.

Vote Below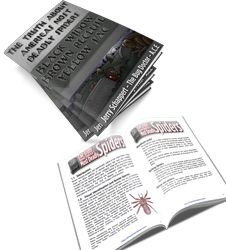 The truth about Americas most deadly spiders" is a free e-book which you can choose to download and read at your leisure. Simply sign up for my also free newsletter and it's your to keep. This is the first of many detailed writings that I have planned and I truly hope that you'll enjoy it and use the information to keep your home spider free. If you missed the sign up box when you logged onto my site simply fill out the newsletter request form at the right of this page and shoot me an e-mail and I'll get it right to you.
Information is a powerful thing and I hope together we can put to rest any undue arachnophobia's.
Grab Your Free Copy Below