Ok I know I've written on this subject once before but it seems that some folks don't believe this tip actually works. Catching spiders with water is an old trick that I've used for years and actually have pretty good success. I've gotten several e-mails and some have said it worked while others had no luck at all.
Spiders are one of the most difficult things to treat for and there are many different theories on what to do. In my service I use dusts, liquid barriers and exterior treatments in all the places I know spiders tend to frequent and still we'll have occasional spiders. Setting up a residual barrier for a creature that frequently runs across the ceiling, has no problem clinging to the back of a dresser or will hide under the couch for hours on end makes for a big treatment challenge to say the least.

There is a way however that will bring this elusive opportunist to a place where you can increase your chances of eliminating it once and for all. Since spiders require water almost everyday you can use this for your advantage and while it's not 100% it usually delivers better results than a 'spray and hope' approach or the obligatory 1/2 can of Raid that has stained your wall and filled the air with insecticide. When I re-read my earlier article on catching spiders with water I realized that I had not listed the easiest way to make a water trap so I thought I'd take this opportunity to do this for you now. Good luck and happy hunting and as always, Thanks for reading.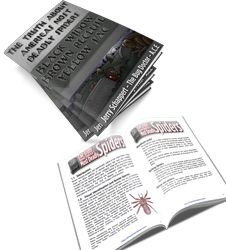 The truth about Americas most deadly spiders" is a free e-book which you can choose to download and read at your leisure. Simply sign up for my also free newsletter and it's your to keep. This is the first of many detailed writings that I have planned and I truly hope that you'll enjoy it and use the information to keep your home spider free. If you missed the sign up box when you logged onto my site simply fill out the newsletter request form at the right of this page and shoot me an e-mail and I'll get it right to you.
Information is a powerful thing and I hope together we can put to rest any undue arachnophobia's.
Grab Your Free Copy Below